Marnus Labuschagne says England are "dangerous" despite defending champions sitting bottom of World Cup table with five losses in six; Jos Buttler's side will be eliminated if they lose to Australia on Saturday, live on Sky Sports Cricket from 8am (first ball at 8.30am)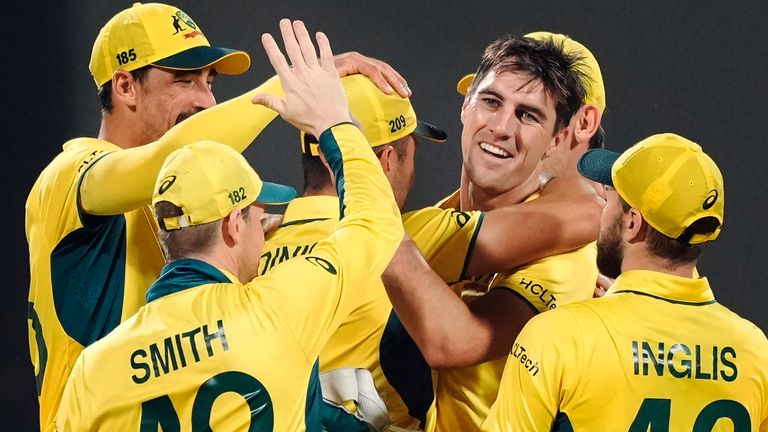 Image: Pat Cummins' Australia can extinguish England's faint hopes of reaching the Cricket World Cup semi-finals
"I don't think Australia will be going into this game pooing their pants but it's up to us to change that."
You can always rely on Mark Wood to give you a memorable line and the England man delivered as he spoke to the media ahead of his side's must-win World Cup match against their oldest rivals.
Saturday's game is must-win because England keep losing. It's four defeats on the spin and five in six for the beleaguered defending champions, with New Zealand, Afghanistan, South Africa, Sri Lanka and host nation India easing to victories against them.
Every harrowing result has pushed the 2019 winners closer to elimination. They are all but out without being officially out.
But lose to Australia and they will officially be out. Their World Cup hopes turned to dust by their Ashes rivals.
There is possibly nothing an Australian cricketer likes more than seeing England struggle.
Australia captain Pat Cummins laughed when asked about England's dismal form earlier in the tournament, while spin bowler Nathan Lyon – not part of his country's white-ball set-up – "absolutely loved" the 100-run defeat to India.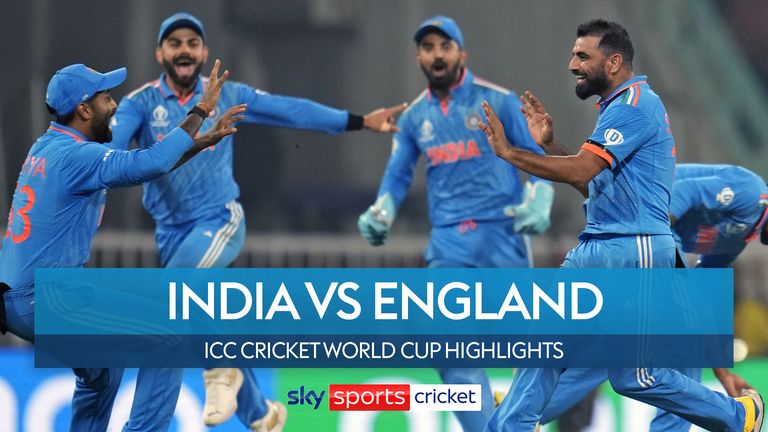 Highlights from England's 100-run defeat to India at the Cricket World Cup
"It's international cricket," said Lyon. "I respect [the England players] as people. I think they're very nice people. But when it comes to cricket, what do you want me to say?"
Labuschagne: Bairstow Ashes stumping 'dead and buried'
Australia would love to deliver the knockout blow to an on-the-ropes England team, particularly after the same side denied them a first Ashes series win overseas since 2001 by coming back from 2-0 down to draw 2-2 this summer.
Had it not been for the teeming rain in the fourth Test at Manchester, England could, and probably would, have won 3-2.
However, Marnus Labuschagne says there will be no fallout from the controversial stumping of Jonny Bairstow during The Ashes – an incident so headline-making it was even discussed by Prime Ministers Rishi Sunak and Anthony Albanese – when the nations meet in Ahmedabad at the World Cup.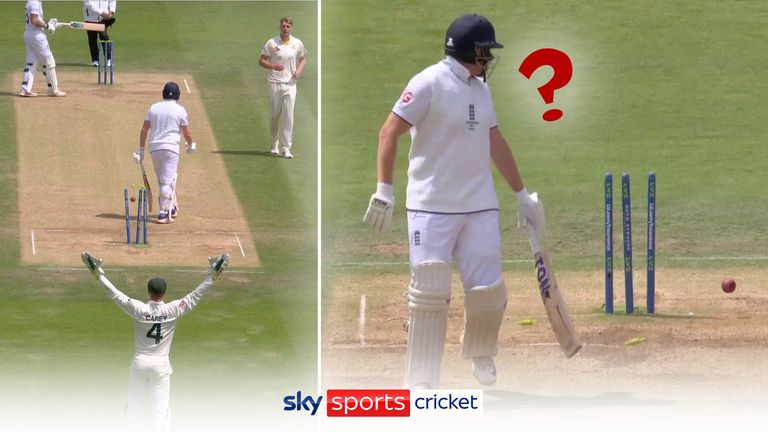 Jonny Bairstow was controversially stumped by Alex Carey on the final day at of this summer's Ashes Test at Lord's
Bairstow wandered out of his crease, believing the ball was dead, and was then dismissed as wicketkeeper Alex Carey's throw hit the stumps, with the decision standing as Cummins choose not to withdraw his appeal.
Labuschagne said: "I can't imagine anything's gonna come up with Jonny. It's dead and buried, something that we don't really talk about, we don't discuss.
"I don't think anyone's view or thoughts have changed on the decision on what happened and we just move on. I think everyone's moved on."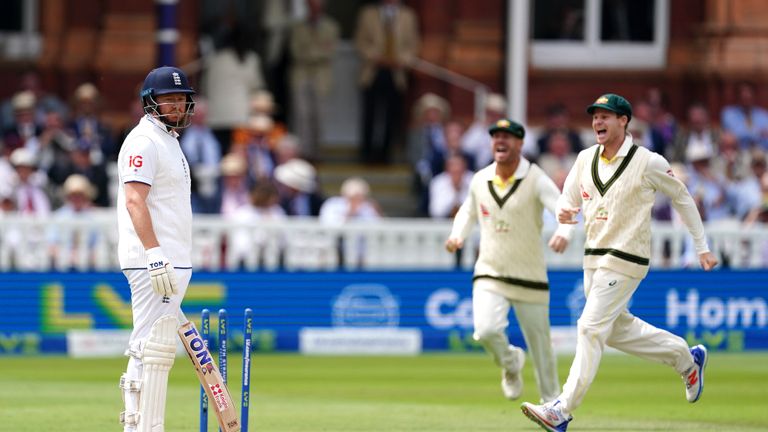 Australia batter Marnus Labuschagne says the Ashes drama involving Jonny Bairstow is 'dead and buried' ahead of the World Cup game with England.
As Labuschagne says, this is not the Ashes.
Different format, different colour ball, entirely different vibe. And right now in white-ball cricket it is Australia who are resurgent and England who have regressed.
Since starting the World Cup with successive defeats to India and South Africa, Australia have reeled off four consecutive wins, racking up scores of over 350 in each of their last three games, against Pakistan, Netherlands and New Zealand.
England have only scored 455 runs combined across their last three innings and sit bottom of the table on net run-rate.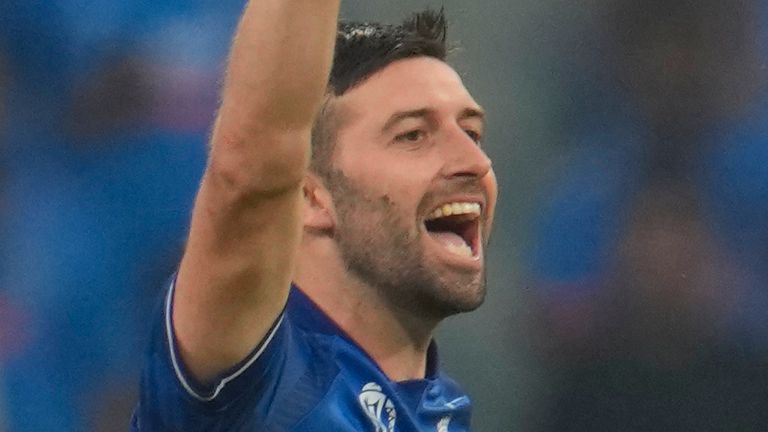 Root: We want performance worthy of playing for England
Australia, as Wood so graphically explained, will not be bricking it at the prospect of facing England – but neither will they be taking them lightly, according to Labuschagne.
"England [are] just horribly out of form – I don't really think there's much else – but one thing that does mean is they're dangerous.
"If there's ever a team that's dangerous, when they're down and out, it's England. Let's not get sucked into how they're performing. They're a good team, they're good individual players. We need to be at our best."
Maxwell, Marsh miss out for Australia
England's hopes of victory have possibly been boosted by the absence of Australia's Glenn Maxwell and Mitchell Marsh.
Maxwell – who thumped a Cricket World Cup-record 40-ball hundred against Netherlands – is out with concussion after falling off a golf buggy, while Marsh has returned home for personal reasons.
England's Joe Root told Sky Sports: "The fact we are playing Australia is enough of a motivation for us.
"We know how big of a game it is, for us individually and collectively, but for everyone watching as well.
"We are desperate to put in a performance worthy of playing for England, one people expect of us and one we expect of ourselves. We need to play our best stuff and put a full game together.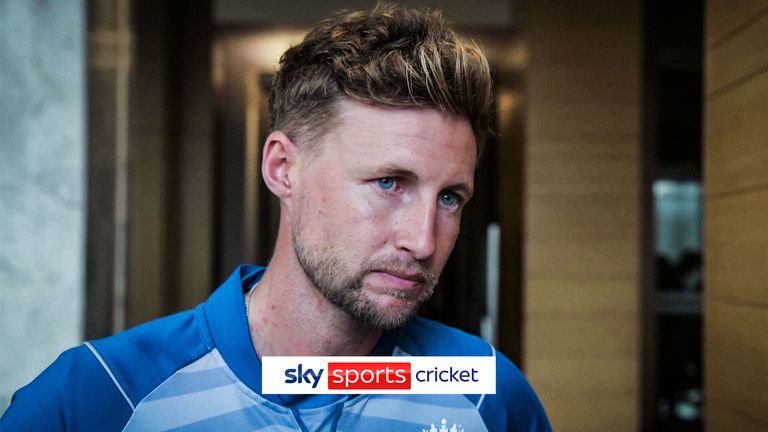 England's Joe Root looks ahead to the Cricket World Cup encounter against Australia on Saturday and calls for more consistency over the full 100 overs.
"We have done it some many times before and have the players to beat any team in the world. Sometimes you have to big each other up and remember what makes you such a good player and why."
Watch England vs Australia live on Sky Sports Cricket and Sky Sports Main Event from 8am on Saturday (8.30am first ball).
Every game from the Cricket World Cup is live on Sky Sports between now and the final on Sunday November 19.
Stream without a contract through NOW.
Sourse: skysports.com