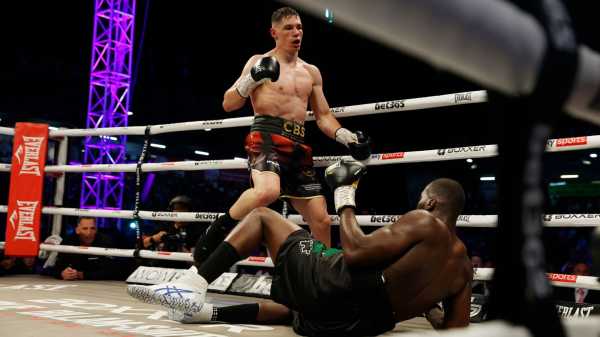 Two points were deducted and three knockdowns were given as Chris Billam-Smith won a wild world title fight against Lawrence Okolie in his Bournemouth hometown.
It was a frenetic collision, with explosive punching, knockdowns, warnings and all round mayhem in front of 15,000 delirious fans at the Vitality Stadium, from which Billam-Smith emerged with a majority decision and the WBO cruiserweight world championship.
Okolie and Billam-Smith once were friends. That was hard to believe given how vicious their fight became. Previously gym mates, they had shared hundreds of rounds in sparring as well as a trainer in Shane McGuigan.
Tyson Fury 'sends contract' to Anthony Joshua for September fight
Daniel Dubois next but 'everything is possible after Oleksandr Usyk wins'
Tyson Fury 'makes his own decisions' | Bob Arum: What do I know?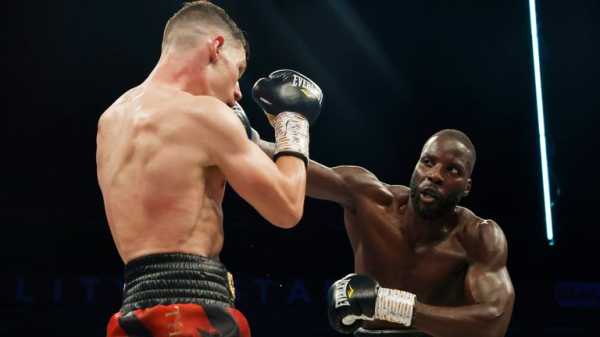 Image: Okolie works with dangerous right crosses (Photos: Lawrence Lustig/BOXXER)
But once Okolie had relocated and left McGuigan to join new coach SugarHill Steward, he put himself on a collision course with Billam-Smith.
The Bournemouth man had steadily risen into contention, picking up British, Commonwealth and European cruiserweight titles, belts which Okolie used to hold.
Trending
Papers: Newcastle move ahead of Man Utd in Kim pursuit
Billam-Smith stuns Okolie to win wild, three-knockdown world title fight
Transfer Centre LIVE! Mason: Levy has been let down by others
Premier League final day: What's still left to play for?
PL Predictions: Everton to draw…but still survive!
Dortmund let Bundesliga title slip as Bayern are crowned champions
News – Mourinho suffers CL blow | PSG secure Ligue 1 title
'Immense' Lockyer celebrates Luton promotion from hospital
Verstappen snatches Monaco pole from Alonso in thrilling finale
Billam-Smith beats Okolie to become world champion – recap
Hugely popular in his hometown, Billam-Smith had the football club's 15,000-seat stadium booked for this date. After Okolie had returned to action in Manchester in March, outpointing mandatory challenger David Light over 12 rounds, he threw down the gauntlet and said he'd take on Billam-Smith only two months later.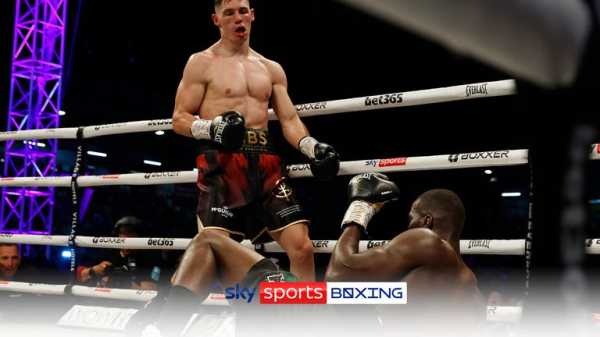 Chris Billam-Smith sent the hometown crowd wild as he delivered Lawrence Okolie's first knockdown of his professional career.
He appeared to relish the boos that greeted him on his arrival, raising a glove to the crowd as he strolled to the ring.
Also See:
Billam-Smith, who as the challenger ringwalked first, was solemn, unsmiling. But he must have been relishing the whole stadium erupting in cheers around him. The reception was simply euphoric and he stood, with the hood of his robe up as he was wreathed in the flames of pyrotechnics.
That was nothing though compared to the crowd's reaction when Billam-Smith fired Okolie off his feet with an explosive left hook in the fourth round.
The champion had started quickly, barrelling into Billam-Smith. There was no need for a feeling-out round, they knew each other too well for that.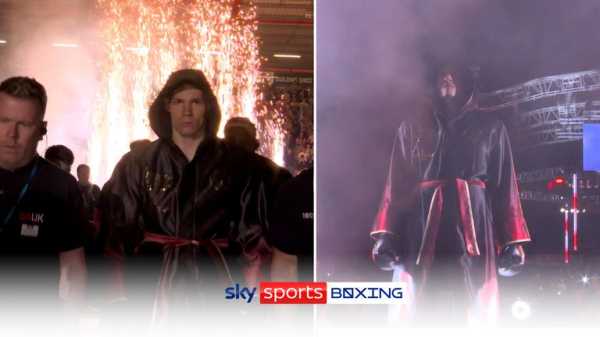 Chris Billam-Smith makes an incredible ringwalk at the Vitality Stadium in his hometown of Bournemouth.
There were frenetic moments as they wrestled with one arm and winged in punches with the other. But the 6ft 5in champion was using his physicality, mauling Billam-Smith with his strength. He clipped him with short rights too.
He scraped his left hook across Billam-Smith's stomach and sometimes, instead of going for the head, Okolie let a right hook reverberate against the Bournemouth man's ribs.
A right to the head did appear to buckle Billam-Smith for a moment and their exchanges in the opening three rounds were taking a toll on the local favourite.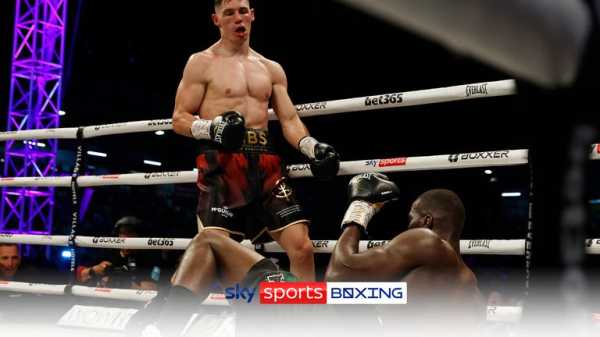 Chris Billam-Smith sent the hometown crowd wild as he delivered Lawrence Okolie's first knockdown of his professional career.
But Billam-Smith ignited the fight with that fourth-round left hook which blasted Okolie off his feet.
The Londoner had to retreat, he needed to clinch. But that saw him deducted a point in the fifth round and Billam-Smith had engineered a huge turnaround.
The champion steadied himself behind bombing right hands but clinching was still a too frequent facet of his game. So much so that he had another point taken off by referee Marcus McDonnell in the seventh round.
Okolie continued to attack viciously, knowing that he needed to land big shots to bring momentum back his way.
But as he rushed forward, a left that appeared more to cuff him off-balance saw Okolie stumble forward. The referee gave it as a knockdown against him.
Okolie's ferocious work became desperate but no less dangerous for it, only for Billam-Smith to catch him on the end of another left hook and put the champion down in the 11th round for a third time.
He looked like he was tired and had to contend with bad cut opening over his left eye.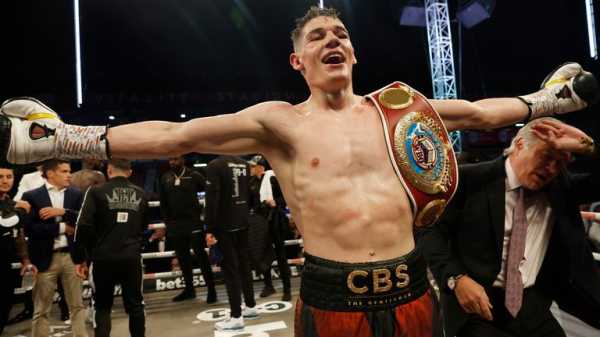 Image: Billam-Smith celebrates his triumph
Billam-Smith was hanging on in the final round as Okolie bore down on him with big shots. But hang on, he did, to win by majority decision on an extraordinary night in his hometown.
Judge Benjamin Rodriguez scored it a 112-112 draw but Bob Williams and Diana Drews-Milani both had it for Billam-Smith, by margins of 115-108 and 116-107 respectively.
Okolie had never lost a fight before. He was gallant after his first defeat.
"I was in there, he was doing a lot of good stuff and got a good knockdown which changed the momentum," Okolie said.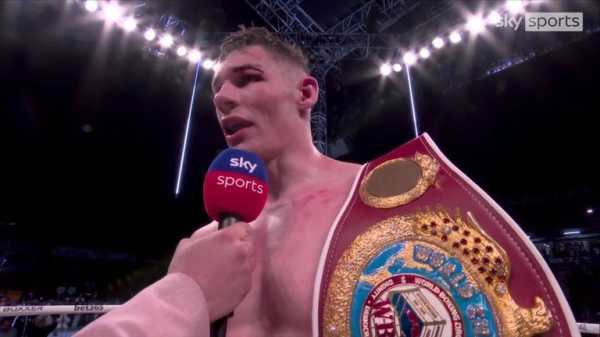 An emotional Chris Billam-Smith reveals he pictured the shot he'd drop Lawrence Okolie with and says his win at the Vitality stadium is the greatest night of his career.
"I love being the winner and the champion, I have to take my hat off to him, he did very good work. We're going to run it back.
"I trained really hard because I know what Chris is made of. Today is his night, I might be down but I'm definitely not out.
"This was Chris at his very best.
"I can adapt to a loss, I'll be back again."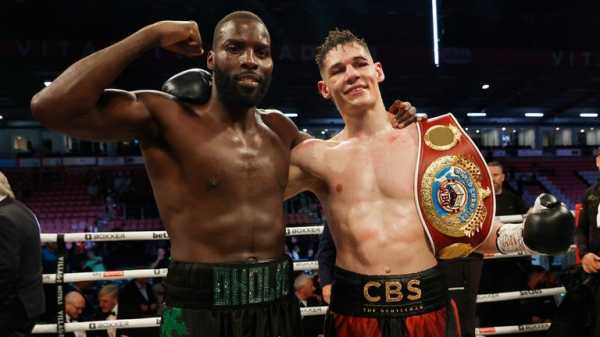 Image: Friends reunited
Billam-Smith dedicated that remarkable victory to his mother.
"I have no idea what's just happened. My whole life has gone so quick and come to this moment, it's just perfect. There's nothing more," he said.
"Against a great champion and a close friend in Lawrence, who has never looked close to getting beaten, he's given me a very, very hard 12 rounds. I believe I did enough to win it, I believe the scorecards show that."
He revealed: "I was sick in bed all week, I didn't eat from Tuesday to Thursday, I managed to put on a brave face, I just want to dedicate this to my mum who has breast cancer at the minute. Mum, this is for you, I love you so much."
Sourse: skysports.com