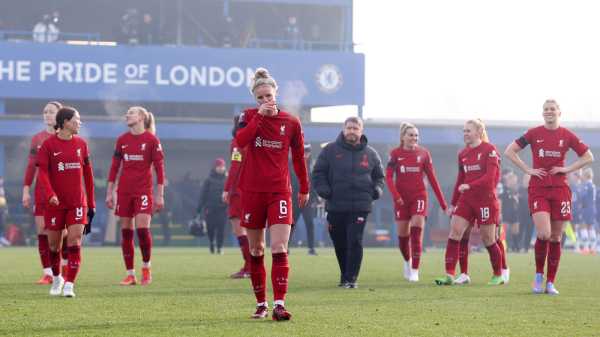 Chelsea manager Emma Hayes and Liverpool counterpart Matt Beard both said their Women's Super League match should never have started after the contest was abandoned after just six minutes due to a frozen pitch on Sunday.
The match at Kingsmeadow passed a pitch inspection two hours before the 12.30pm kick-off, but after Chelsea midfielder Erin Cuthbert took a heavy fall in the fifth minute, the referee deemed the pitch unplayable and called off the fixture. It was a situation that was called 'embarrassing' by former England manager Hope Powell.
Arsenal's trip to Brighton, which was set to be broadcast live on Sky Sports, was also postponed at 4.11pm on Sunday, two hours and 34 minutes prior to the scheduled 6.45pm kick-off time at Broadfield Stadium.
Twitter Due to your consent preferences, you're not able to view this. Open Privacy Options
Hayes said she thought the pitch had not looked playable since the morning.
"You could see from the opening minutes that it was like an ice rink down the sides," Hayes told the BBC.
Trending
Transfer Centre LIVE! Kane 'open to signing new Tottenham contract'
Keane: It'll take a lot to stop Arsenal | Fabregas hails Arteta: He's changed everything
Keane: Have Man Utd moved on from past problems? | 'Wan-Bissaka, do your job!'
Papers: Lampard waiting to learn Everton fate
Neville: Arsenal of 20 years ago | England call coming for Nketiah
Arsenal transfer rumours: Kiwior spotted at Emirates Stadium ahead of move
Eubank Jr: It was a 'once in a lifetime' shot by Smith | 'I was dominating the fight!'
PL Hits & Misses: Haaland makes the extraordinary look ordinary
Eubank Jr to 'let dust settle' before making Smith rematch decision
'It's very embarrassing' – Chelsea vs Liverpool off after six mins
"Matt Beard [the Liverpool manager] was upset that it even got to that point and he's right.
"It's not for managers to decide if it's on – it's up to the FA and officials. We have to say to ourselves that it's time for undersoil heating. We've got to take our game seriously. Yes, we can have our blowers and pitch tents, but it's not enough.
Also See: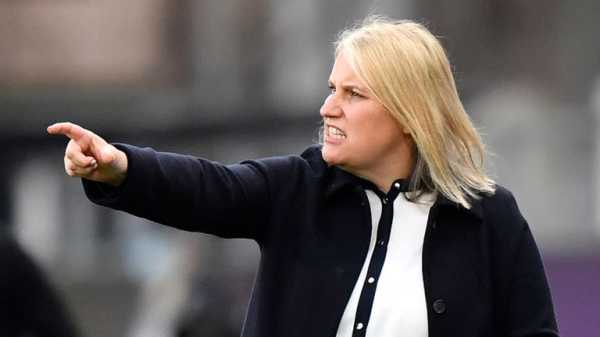 Image: Emma Hayes says it is time for the women's game to be taken more seriously
"The game should never have started. Everyone wanted to get the game on, but when you have got emotions of teams wanting or not wanting to play, that's when you need a decision from above. The FA weren't here – they need to be making the decision.
"It wasn't playable at 9.30am, so they said to give it until 2pm. There was a section that was quite hard, so they put blowers on it. They tested everywhere else and it wasn't too bad, but as soon as you take the covers off it becomes a different situation.
Twitter Due to your consent preferences, you're not able to view this. Open Privacy Options
"On top of that, the temperature hasn't changed. When the sun rises and you get your feet on the grass, sometimes it can change – but it's a block underneath and not playable. I saw Niamh Charles slip. I understand; we have to put player safety first.
Twitter Due to your consent preferences, you're not able to view this. Open Privacy Options
"We've made progress with investment into the quality of grasses and surfaces across the league. No game at the top level of the women's game should be cancelled. We need undersoil heating – we don't live in Barbados."
Liverpool manager Beard added: "Players from both sides have slipped. Like I said before, the game should have never gone ahead."
Twitter Due to your consent preferences, you're not able to view this. Open Privacy Options
On the pitch being frozen, Beard said: "They were going to give it a chance, so that was the explanation. It wasn't safe down there [the dugout side]. There were patches in the centre and other areas. I guess where they had the heat, but the majority of the pitch, it wasn't the case.
"Chelsea have done everything they can to try and get the game on. I'm surprised it kicked off at 12.30pm because we got told this morning that we can try and kick-off the game at 2pm, but we've got the phone call to say that the game was back on at 12.30pm. I was a bit surprised."
Former England and Brighton manager Powell said the situation was "embarrassing" for the game.
"They should have cancelled it before. The pitch was hard and it was a bit dubious whether it would go ahead or not. But to actually start the game and then five minutes into it realise it was dangerous, [with] too many players slipping, I think is very embarrassing.
"It is not a good look and it's a shame for everybody here today."
She added: "This is a worst-case scenario. It's embarrassing for the league, for the players and everybody involved."
'It's farcical, I can't believe what I'm seeing'
Sky Sports News reporter Jamie Weir speaking moments after Chelsea vs Liverpool was abandoned:
"Dramatic scenes at Kingsmeadow. The match has been abandoned with only six minutes played.
"If you were with us earlier on, you'd have seen there was a big tent over the pitch.
"The officials were concerned that the ground was frozen underneath. They had the hot air blowers going on the pitch and they said we will go ahead.
"They kicked the game off and six minutes in, they decided to abandon the match.
"The Liverpool players have gone over to the travelling fans and given them applause for coming all this way on a freezing cold day.
"The Chelsea players have gone back into the changing rooms. Emma Hayes and Matt Beard, the two managers, are standing around on the pitch, discussing what is going on.
"It's quite farcical to be honest that we've even got to this stage. I can't believe what I'm seeing."
How the pitch looked on Sunday morning…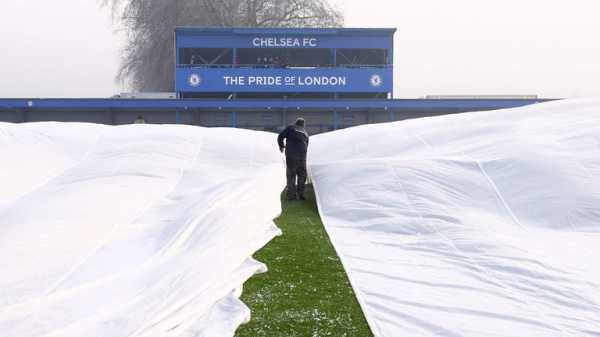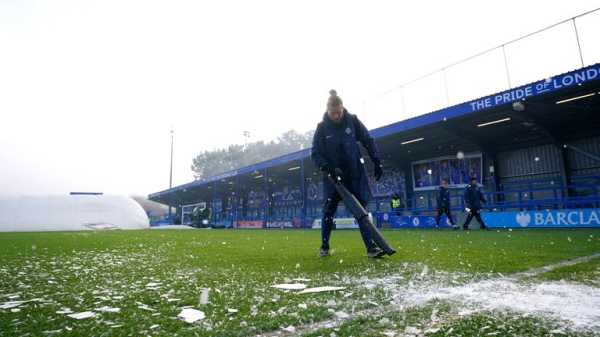 Image: The Kingsmeadow playing surface had passed an earlier pitch inspection before the match was abandoned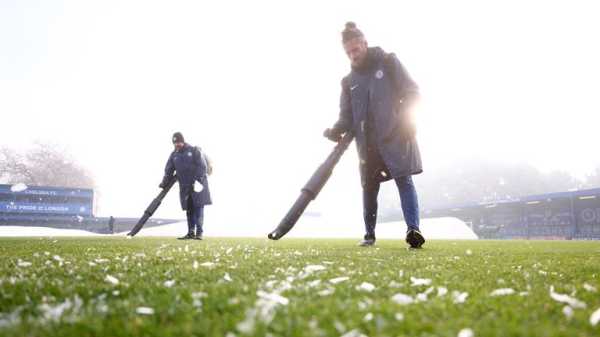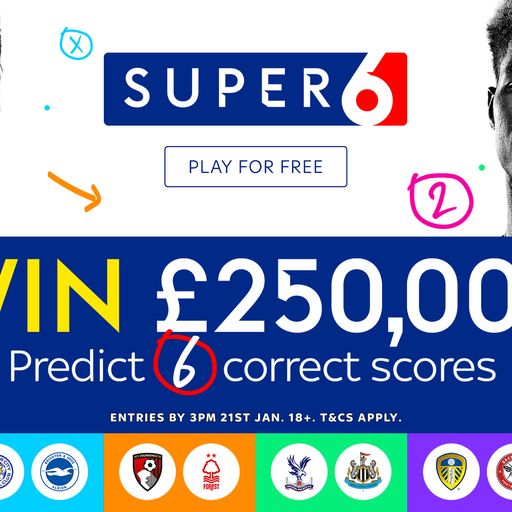 Win £250,000 with Super 6!
Another Saturday, another chance to win £250,000 with Super 6. Play for free, entries by 3pm.
Sourse: skysports.com