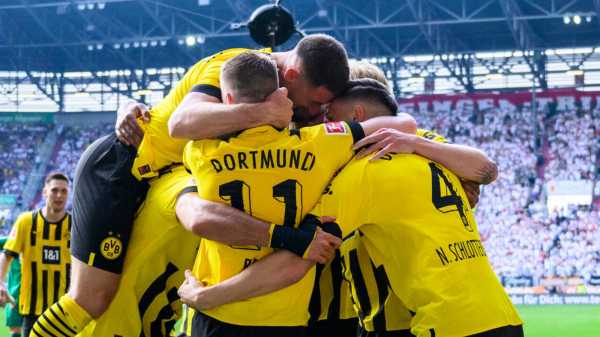 There is only one place to be on Saturday afternoon and that is with the 81,365 supporters at Signal Iduna Park as Borussia Dortmund host Mainz. Victory for the home side would end Bayern Munich's decade-long domination in the Bundesliga.
There are 200 seats in the press box but the number of applications has hit 1000. Fan interest is even more intense. "You can imagine how many requests I have had," says sporting director Sebastian Kehl. How many could they sell? "Perhaps 500,000," he adds.
Dortmund has been waiting for this. German football has been waiting for this. The irony of that moment arriving in this of all seasons is not lost on Kehl or the club. A new sporting director. A new head coach. And scoring sensation Erling Haaland sold.
His replacement last summer was Sebastien Haller. He was diagnosed with testicular cancer during pre-season. That was bigger than football and, ultimately, it has galvanised and inspired. But in the short term it also presented a football problem.
Haller could not play until his dramatic return in January. At that stage, Karim Adeyemi, the other major forward acquisition of the summer, had yet to score either. Dortmund had gone into the World Cup break languishing in sixth. A title win was implausible.
Trending
Kane is Man Utd's No 1 target | Club also want Rice and Mount
Transfer Centre LIVE! Dortmund: No offers for Bellingham yet
Mercedes unveil new-look sidepods as W14 upgrades are revealed
'What is this club now?' – Chelsea's 12 months of chaos
Papers: Ten Hag wants swift Kane move and eyes Mount swoop
Ferrari boss: No offer for Hamilton but every team would want him
How Dortmund turned around their season – and the Bundesliga
Ten Hag: Ownership saga won't affect Man Utd transfer plans
Slot staying at Feyenoord as Tottenham manager search continues
Roy set to tear up England deal to play in Major League Cricket
And yet, here they are. Uncharacteristically, Bayern have faltered. More importantly, Dortmund have capitalised. They won their first eight Bundesliga games of 2023 and have picked up 10 more points than any other team since the turn of the year.
"The season was like a rollercoaster," says Kehl, a man who won the title three times with Dortmund as a player. The end is now in sight. "Hopefully, we can show the whole world that we well deserve to be champion after a decade of Bayern Munich."
Also See:
Watch Bundesliga's most tantalising title race go to final day on Sky Sports
Dortmund's obsession with football
There are prettier cities in Germany than Dortmund but that has always been part of its appeal. Football is the focus. As Adeyemi puts it, "everybody knows the city because of the club" – and everybody knows the club because of the passion of its supporters.
Paul Lambert is no longer the best British midfielder to play for Dortmund. He rates Jude Bellingham as the best teenager in the position that he has ever seen. But his experience of winning the Champions League with the club in 1997 gives him a rare insight.
Twenty-six years on, memories remain of the aftermath. Not just of Borsigplatz, the square that is the traditional focal point of Dortmund's celebrations, but of the long drive after landing at Paderborn airport and the supporters who lined the city's streets.
"I remember thinking, wow. All I saw was yellow and black. I never saw any colour other than yellow and black. They were hanging out of windows, on traffic lights, on top of cars. It was thousands and thousands of people and I have never seen anything like it."
Lambert had been there all season, building an affinity with the fans who identified, he believes, with his working-class Glasgow roots. But this was different. "I knew it from the stadium but what I never realised was what would happen if you won something."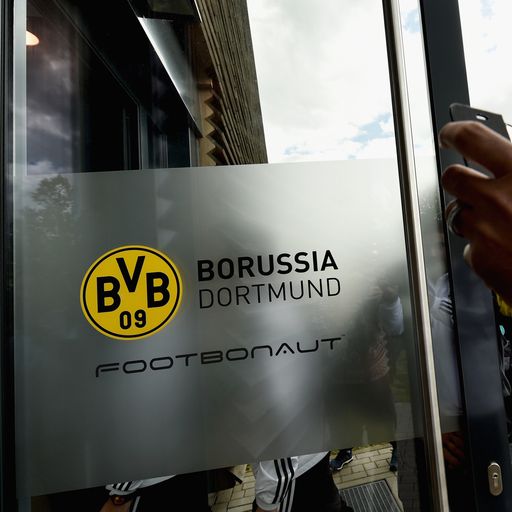 Inside Dortmund's academy
Adam Bate visits Dortmund's academy to find out how they are developing the stars of tomorrow
In a place like that, the wait can feel interminable. Particularly when their 2021 cup success could not be celebrated as it should have been, due to the pandemic. It is six years since they were able to enjoy any trophy on the streets of the city. This would be cathartic.
It would also be huge. So huge that, while it might seem presumptuous, as coach and players focus on the game, Kehl's energy is also going into what happens next. This is about Saturday but Sunday too – and the biggest party Dortmund has ever seen.
"As a club, of course we need to organise stuff for Sunday." He has also ensured the players' families all have their tickets for the game. That can be a distraction. "My experience helped me to bring that to an end before Saturday." He wants minds on the job.
"They should realise that this is a huge opportunity for them but also for our city," he explains. "I have to pay attention to much more things than I did as a player, as a captain. But the feeling is much the same. You can make people happy at Dortmund."
Problems early in the season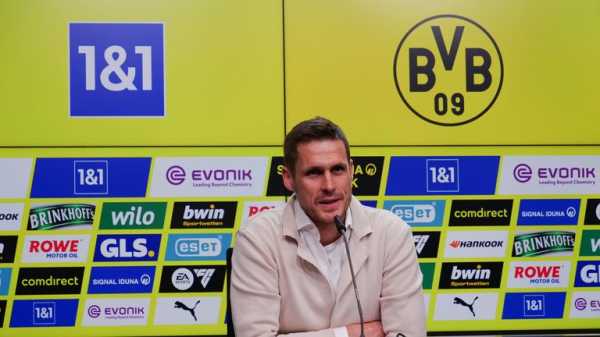 Image: Dortmund sporting director Sebastian Kehl speaking to the media [Credit: BVB]
Kehl has had an extraordinary first year in this job. When he says "this was not an easy season for me" it feels like an understatement. The pressure was on with players struggling to settle, a team unable to gel. Asked by Sky Sports, if it required patience, he is frank.
"Honestly, we were not patient in that moment. I think it hurt the players a lot that we were sixth in the table in November. This is not the expectation from the club. This is not the expectation of the players who play for Borussia Dortmund."
He was questioned too. Predecessor Michael Zorc might not have delivered the title since 2012 but he had qualified for the Champions League seven times in a row. Now even that was at risk and there were doubts about how the money had been spent.
Kehl uses the word "nervous" before retracting it. "We were very unhappy. Criticised for our performance, for our poor performance in some ways, to be honest. We had many problems, many injuries." But he insists he always believed in the quality of the squad.
A training camp in Marbella is now seen as a turning point. There were honest conversations. A realisation that hard work was the only solution. "Performance is not a present, it is hard work," says Kehl. "I think that was crucial, that the mindset changed."
The team that emerged in January was different. "They were much more focused. The self-confidence came back." But the personnel were a little different too. Dortmund were boosted by the return of Haller. It is the one of the feel-good stories of the season.
Haller's 'miracle' comeback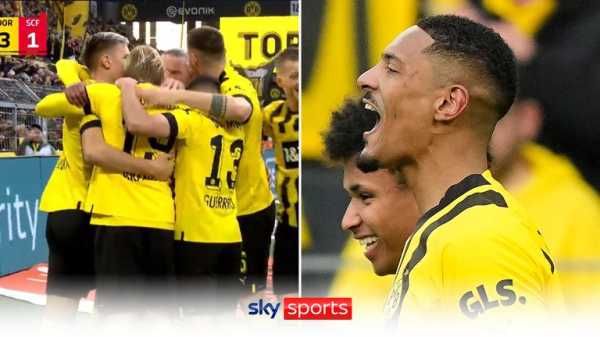 Watch Sebastien Haller's first goal since his return from testicular cancer
Haller's first Bundesliga start for Dortmund inside their own stadium came in the first week of February. He marked the occasion with a goal in front of the famous Yellow Wall in a 5-1 win over Freiburg. The whole team ran to celebrate the moment with him.
"It is like a miracle that he was back after such a disease," says Kehl.
It also transformed Dortmund's play. Others had deputised, Anthony Modeste scoring a vital late equaliser against Bayern that has proved crucial in the title race. But Haller is already the club's joint-top scorer in the Bundesliga despite playing only half a season.
"He gives them a focal point," says Lambert. "People can play off him. He is a big lad who can hold the ball up, play people in. He can also finish. Dortmund having him has been a revelation in the last half of the season. It has given them something different."
Haller has been particularly important during the run-in. His five goals in three games have fired them to the brink of the title. "We missed him for a long time. There was a reason Sebastien Haller was signed by us after we lost Haaland to Man City," says Kehl.
"He is a great player but he is not only a great player, he is a great personality. He could show that in that crisis he had. What a person. I do not think any one of us can imagine how he felt in that time.
"But he came back. And he scored."
Impact of Adeyemi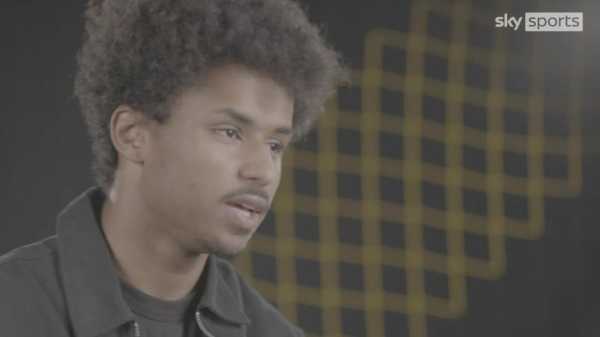 Borussia Dortmund's Karim Adeyemi on how the ball loves Jude Bellingham
Adeyemi had been around in the first part of the season but the young player who claims to be quicker than Usain Bolt over 30 metres was not himself. It was not just that he did not score a Bundesliga goal before Christmas, there were no assists either.
Those electric performances have finally come in 2023. When he broke his Bundesliga duck, he scored in the next two as well. Half a dozen goals in eight games reflects Haller's influence on others but also his own focus. It has helped reinvigorate Dortmund.
"You need time to get involved in this quality," Adeyemi tells Sky Sports. "Last year was really hard for me and for the team also. We did not have a good six months. For myself, I can also say I did not play good. This year, I had some things to do and this is what I did."
Did Bayern blow it?
"I would not put huge significance on what Bayern have done with Julian Nagelsmann leaving and Thomas Tuchel coming in," says Lambert.
"Dortmund have kept the pressure on and not wilted. The kids are playing really well. The older lads have done great. They have been incredible."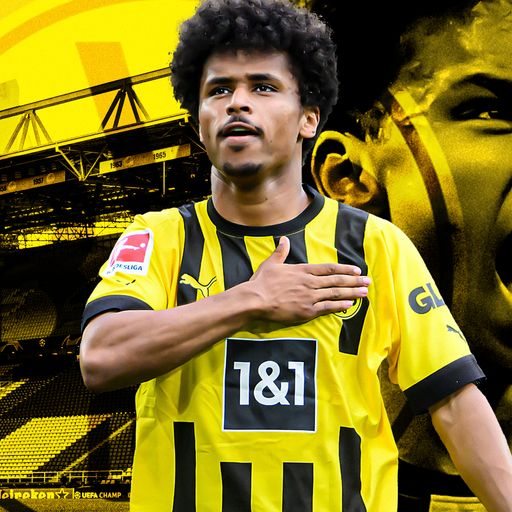 Exclusive interview with Karim Adeyemi
Adam Bate speaks to Dortmund winger Karim Adeyemi about his dramatic turnaround in form
Magic of Bellingham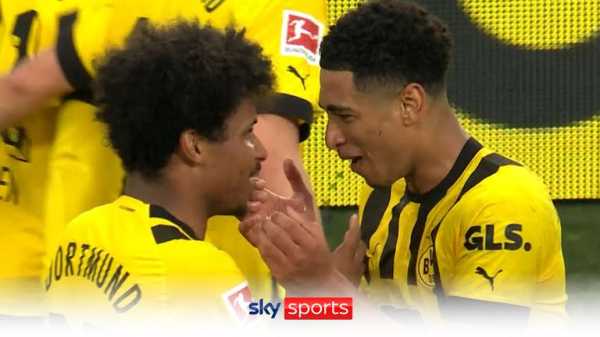 With speculation linking Jude Bellingham to Real Madrid, check out some of his most iconic celebrations during his time in the Bundesliga with Borussia Dortmund
The constant has been Bellingham. He remains a special talent. "What I love to say is that the ball loves him and he loves the ball back," says Adeyemi. "Everything he does is quite magic." And what exactly does he do? "Almost everything, I think."
At 19, Bellingham has started more Bundesliga games for Dortmund than anyone else this season, driving the team on, raising standards, demanding more from himself and others. The veteran Mats Hummels is still key but Bellingham has emerged as a leader too.
Lambert regards him as "without a doubt the best 19-year-old midfielder I have seen" and says he can be whatever he wants. That could yet take him elsewhere but Kehl does not doubt his commitment right now. "To be part of a title is everything to him."
Role of fan-turned-coach Terzic
If there is a man it means more to, that man is head coach Edin Terzic. Lambert first came across him when was Slaven Bilic's assistant manager at West Ham. "I knew he was a Dortmund fan then. Because he told me." Emphatically, this is his club.
Kehl describes him as a child of Dortmund. "Born and raised here in our club, in our scouting department, as an assistant coach. He understands the club. He identifies with the club and has its values." He was the right man at the right time to lead Dortmund.
Transfer Centre LIVE! | Get Sky Sports
His standing will increase with a Bundesliga title and he is not alone in that. This could change the game for Dortmund. The sporting director is already thinking about prospective conversations with players and agents. "It will have an impact," says Kehl.
"We can show the players that it is not only to develop them and to sell them at some point, but we are able to win trophies. To show that we have the environment, the power, the capacity to win titles is massively important for me to bring players to Dortmund."
A new dawn in the Bundesliga?
Bellingham's exit may prove to be inevitable but there is hope that this can be a platform for change in the Bundesliga rather than a blip for Bayern. "It is good for everybody that the competition in our league is still there," says Kehl. "I am pretty optimistic."
He remained so even when Dortmund were beaten away to Bayern last month, their only Bundesliga defeat of the year. At the time, it was seen as a potentially decisive moment, the day on which the champions had reasserted their authority.
"I know the stories were made again. Is it Bayern Munich again who destroys our dream? It was like a kick on that matchday. But we have not lost our dream. I am pretty proud that the team has come back. Now we have everything in our hands."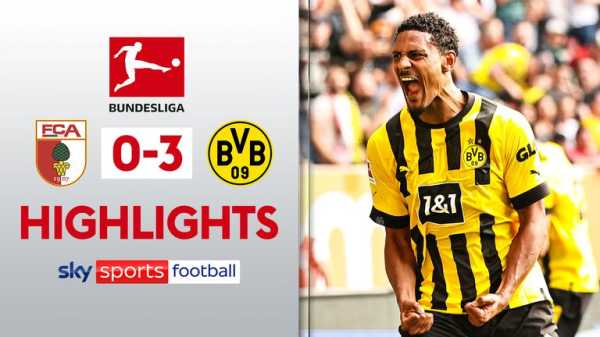 Highlights of Borussia Dortmund's 3-0 win over FC Augsburg in the Bundesliga
In their way now, only Mainz. In Mainz's way, the wall of noise that is the sudtribune at Signal Iduna Park and a city united. Given Bayern's long reign, one might expect to detect some fear that there could be a twist in this tale, that there is still time for it go wrong.
It is not apparent. From the logistical planning for the day after the game to the sense of togetherness among fans, players, head coach, sporting director, and the club legends watching on from afar, there is only excitement and conviction that this is their moment.
"When I was there a few weeks ago, there was a really good feeling," says Lambert, who met with Terzic and the players after the win over Union Berlin. "The belief is there. What I have sensed from going to watch Dortmund is that there is no fear factor.
"That is why the crowd are so important. I have never gone to a Dortmund game, when playing there or watching the guys, and felt any negativity in that stadium. That is why I think they will win it. The crowd will not be nervy." And so, neither will the players.
"It is not pressure," says Adeyemi. "Just motivation."
And that motivation is why this momentum feels irresistible.
"Everybody wants to be in the stadium," adds Kehl. "Everybody wants to share this moment with the players. It is up to them on Saturday to win the game first. We are ready to do it one more time.
"And then, there is no better place to celebrate than Dortmund."
Watch Borussia Dortmund vs Mainz on Sky Sports Mix or for free on Sky Sports app and YouTube.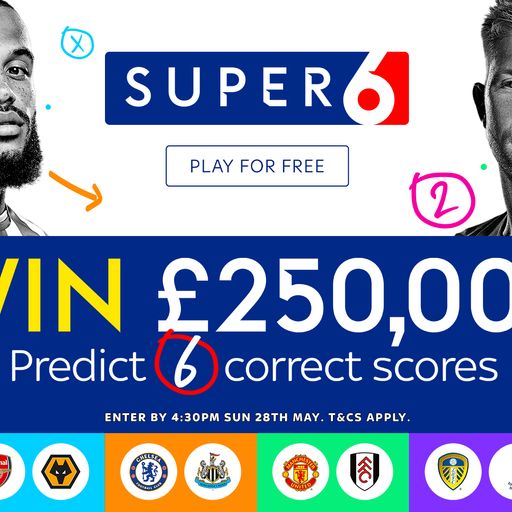 Win £250,000 with Super 6!
Another Sunday, another chance to win £250,000 with Super 6. Play for free, entries by 4:30pm.
Sourse: skysports.com