Anwar El Ghazi has seen his contract terminated at Mainz after posting a pro-Palestine video on social media; the 28-year-old was suspended by the German club on October 17 having joined in September; Mainz described the post as "unacceptable"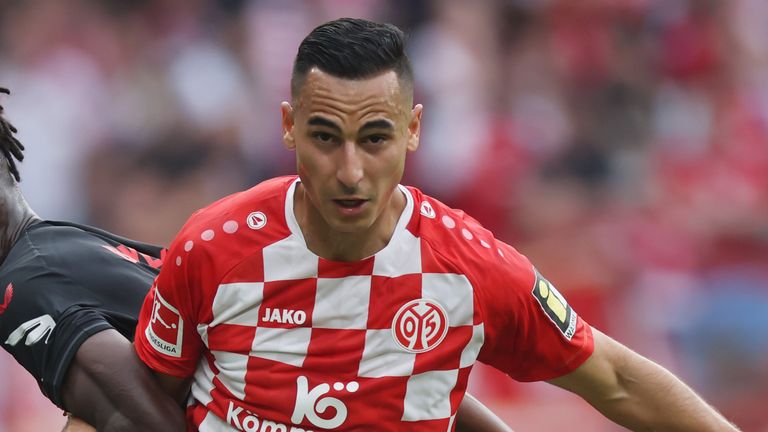 Image: Anwar El Ghazi's contract at Mainz has been terminated
Anwar El Ghazi's contract at German club Mainz has been cancelled after the player posted a message on social media about the Israel-Hamas conflict.
The former Everton and Aston Villa forward was suspended by the Bundesliga club on October 17 after the now-deleted post, which was put online two days earlier, came to light.
Mainz distanced themselves from the post upon suspending the player, saying commenting on "complex conflicts" with "varying perspectives" is something that "does not align with the values of the club".
The German club have confirmed El Ghazi's contract has now been terminated "in response to comments and posts from the player on social media".
El Ghazi responded on social media on Friday, saying: "'Stand for what is right, even if it means standing alone.'
"The loss of my livelihood is nothing when compared to the hell being unleashed on the innocent and vulnerable in Gaza #stopthekilling."
On Monday, Mainz said El Ghazi's suspension was lifted following talks with the management and he would receive a reprimand, stating the player "regrets publishing the post and also was remorseful about its negative impact".
The club added El Ghazi "also stated that he does not question Israel's right to exist".
However, in a social media post on Wednesday, El Ghazi indicated the club had issued its statement without his permission.
"I do not regret or have any remorse for my position," he wrote. "I do not distance myself from what I said and I stand, today and always until my last breath, for humanity and the oppressed."
The 28-year-old, who also previously played for PSV Eindhoven, joined Mainz as a free agent in September and made three appearances as a substitute.
On Wednesday, the FA said they will write to clubs advising players not to use the phrase "from the river to the sea" in social media posts as it is "considered offensive to many".
Leicester City midfielder Hamza Choudhury apologised and deleted a post on X, formerly known as Twitter, for using the phrase alongside a Palestinian flag.
The FA decided against imposing a sanction on Choudhury, but if any player uses the phrase again, they run the risk of being investigated by police.
Sourse: skysports.com