Despite entrepreneur and commentator Vivek Ramaswamy's political inexperience, he has gotten some early traction with conservative voters: The 2024 Republican hopeful currently sits at third place in FiveThirtyEight's national polling average — ahead of rivals like former Vice President Mike Pence though still far behind Donald Trump the front-runner.
Ramaswamy hasn't slowed down on the trail as his standing has risen in the field, making stops in seven states in the week leading up to the first Republican primary debate, on Wednesday in Milwaukee.
In a sit-down interview on his campaign bus with ABC News Senior Congressional Correspondent Rachel Scott, Ramaswamy described his approach to the trail this way: "to not be over-artificial or over-prepared, really, and instead continue to talk to voters across this country, which I think is probably the best form of debate prep."
"The reality is that the other candidates have all been in both Republican primary and general election political debates before. I haven't. So I'm fully prepared for taking a few iterations to find my stride as Trump did in 2015," Ramaswamy said.
MORE: 'Wanting to be famous': How Vivek Ramaswamy sought podcast stardom prior to White House run
Since launching his campaign early this year, Ramaswamy has modeled much of his platform and pitch to voters along Trump's initial, disruptive run. And like the former president, Ramaswamy's policies sometimes break from the bipartisan consensus in Washington, such as when he suggested he would allow China to invade the self-governing island of Taiwan once the U.S. no longer needs Taiwan's semiconductor manufacturing power.
He has also called for raising the voting age to 25, with some caveats — a proposal that would require amending the U.S. Constitution.
Ramaswamy calls himself a "free-speech absolutist," running on a slogan of "TRUTH" and opposing all hate speech laws.
As his numbers have gone up, so has the scrutiny he's faced, including criticism from other GOP candidates like former U.N. Ambassador Nikki Haley, who went after his claim that Israel receives "preferential treatment" from the U.S. (His campaign shrugged off that attack.)
Asked by ABC News why he thinks voters should believe that he's equipped to be president with no experience in public office, Ramaswamy, 38, said: "When it comes to the next president of the United States, I think we absolutely need an outsider …. one preferably from a different generation."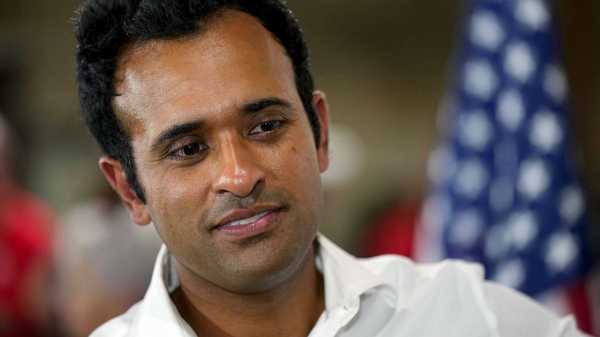 Republican presidential candidate Vivek Ramaswamy speaks during a campaign stop, Aug. 5, 2023, in Vail, Iowa.Charlie Neibergall/AP
"I'm the one person in this race, I think, who is not just leading us from something — I'm leading us to start running to something to an actual vision of what it means to be an American with an actual agenda, not just against the failed Biden agenda. That's boring," he said.
His goal, he said, is to "restore integrity and accountability to government to dismantle the bureaucracy in Washington."
At the same time, he has made clear his disdain for "secular cults" like "transgenderism," an example of his harsh rhetoric and criticism of transgender people and trans issues that has fueled outcry from advocates.
He has also maintained that his views are driven by concern for children and said, "I believe that we live in a country where free adults should be free to dress how they want, behave how they want and that's fine."
MORE: Trying to beat Trump by embracing him: Vivek Ramaswamy's 2024 strategy is odd to Republicans
Speaking with ABC News, Ramaswamy said he's taking Trump's "America-first" agenda "further than Trump did."
"I call it America First. 2.0," he said when asked by Scott why Americans should vote for him when Trump is still in the race.
"I think there's only two people who matter in this race. That's Donald Trump and myself … I don't think that there's a relevant race from any two candidates other than Trump and myself," he said, adding, "I guess we'll call myself young, scrappy and hungry, and that's exactly the way I'm running this campaign."
Though some have speculated that Ramaswamy is vying for a spot in the next Republican presidential Cabinet, or even as a running mate pick, Ramaswamy said he's in the race to win.
"I don't think there's another Republican in this race who can deliver a Reagan 1980-style landslide like I think I'm in a position to do," he contended. "That's why I'm in this race and I think we're going to succeed to do it."
Sourse: abcnews.go.com