Former Vice President Mike Pence filed paperwork with the Federal Election Commission Monday to launch his presidential campaign.
The paperwork marks the start of a long-anticipated 2024 bid for Pence, which will put him in the middle of a crowded GOP primary field that also features Donald Trump, the former president Pence served under, and Florida Gov. Ron DeSantis, considered by most to be Trump's most serious Republican challenger.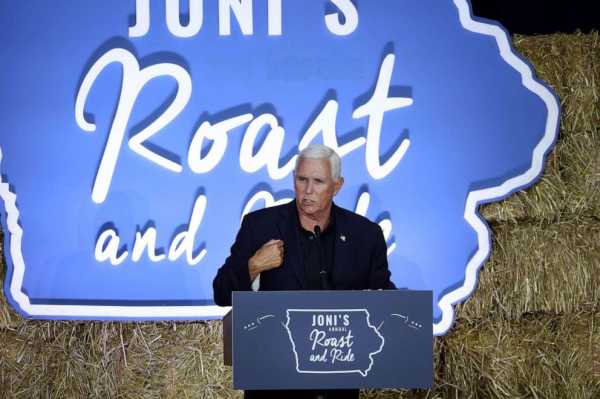 Former Vice President Mike Pence speaks to guests during the Joni Ernst's Roast and Ride event, June 03, 2023 in Des Moines, Iowa.Scott Olson/Getty Images
Other contenders include former South Carolina Gov. Nikki Haley, South Carolina Sen. Tim Scott, tech entrepreneur Vivek Ramaswamy and more.
Former New Jersey Gov. Chris Christie and North Dakota Gov. Doug Burgum are also anticipated to launch campaigns this week, but New Hampshire Gov. Chris Sununu said Monday that he'll stay out of the race after saying for months he was thinking about joining.
MORE: Mike Pence announcing 2024 presidential bid next week in Iowa: Source
Pence has long teased that he could enter the 2024 field, and in hints that a campaign is coming, has been traveling to key early primary states and had a super PAC set up by allies that will likely support his campaign as it gets off the ground.
Pence is anticipated to have an official campaign launch on Wednesday in Des Moines, Iowa, followed by a CNN town hall later that night.
The former vice president has yet to break double digits in statewide and national polling.
Pence is anticipated to have a muscular campaign presence in Iowa, where his hardline social policies and devout religious appeals could win over support from the state's influential evangelical voters. He also hails from Indiana, a nearby state.
MORE: Ron DeSantis, Tim Scott and more join multi-candidate 'Roast and Ride' in Iowa
Pence largely remained loyal to Trump during their four years in the White House, but the two had a falling out after the Jan. 6, 2021, insurrection, before which Trump pressured his No. 2 to use his ceremonial role overseeing the certification of the Electoral College results to overturn their loss.
Pence has since said "there is almost no idea more un-American than the notion that any one person could choose the American president" and hinted that he believes the party is ready to move on from Trump's bombast and return to a party more defined by Ronald Reagan-era policies.
"I believe we have to resist the politics of personality and the siren song of populism for more timeless conservative principles, and we need to stand firm on the conservative agenda of life and liberty and a commitment to freedom that has always led us to victory," he said last weekend in Iowa.
Sourse: abcnews.go.com