Three reasons Democrats are serious contenders in some Trump-country elections this year.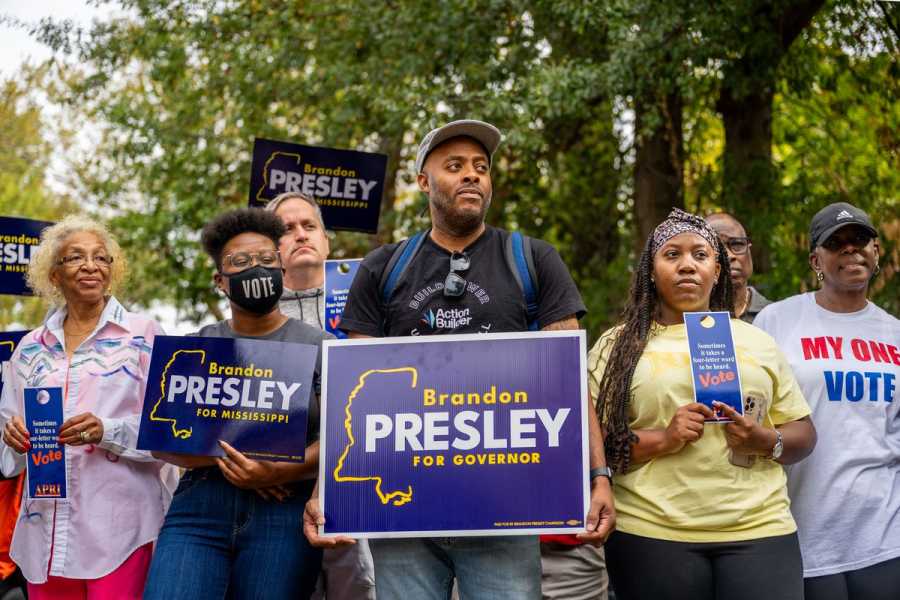 Supporters listen as Mississippi Democratic gubernatorial candidate Brandon Presley speaks during a campaign stop on November 6, 2023, in Jackson, Mississippi. Brandon Bell/Getty Images Li Zhou is a politics reporter at Vox, where she covers Congress and elections. Previously, she was a tech policy reporter at Politico and an editorial fellow at the Atlantic.
In Tuesday's off-cycle elections, Democrats are looking competitive in two somewhat unexpected places: the red states of Kentucky and Mississippi. In both, the Democratic candidate has managed to leverage personality, policy messaging, and fundraising skill to deepen their chances in a challenging and close gubernatorial race.
In Kentucky, popular Democratic incumbent Andy Beshear is battling for reelection against state Attorney General Daniel Cameron, a Republican backed by Senate Minority Leader Mitch McConnell and former President Donald Trump. Of the two races, Kentucky is seen as more favorable to Democrats given Beshear's incumbency and high approval rating, with Cook Political Report rating it as "Lean Democratic."
In Mississippi, the Democratic candidate, Brandon Presley, a member of the state's public service commission and Elvis's second cousin, is attempting to unseat unpopular incumbent Republican Tate Reeves. Presley's race is viewed as more of a longshot, with Cook Political Report rating the race "Lean Republican." Presley's compelling personal story of overcoming poverty and succeeding after the murder of his father, as well as his populist policy platform, have put him more in contention this cycle than Democrats have been in the past.
Democrats still face significant obstacles in both states, however, due to the region's Republican leanings. Kentucky's legislature has a Republican supermajority, many of its top statewide officials are Republican, and its voters backed Trump by 26 percentage points in 2020. Similarly, Mississippi's legislature also has a Republican supermajority, all of its top statewide officials are Republican, and its voters backed Trump by 16 percentage points in 2020. Additionally, Mississippi hasn't elected a Democratic governor in 24 years.
Since both places are red states, and gubernatorial elections are often substantially different from federal ones, neither is a perfect blueprint for Democrats to emulate in 2024. That said, the strength of both candidates does hold lessons about the importance of candidate quality, a takeaway Republicans certainly had from failed Senate races in 2022. Additionally, the respective issues both candidates are focusing on — including Medicaid expansion and abortion rights — point to some of the policy areas that national Democrats could use to motivate voters next year.
Below are a few factors for why both races remain competitive for Democrats, despite the challenging fundamentals they face.
Strong Democratic candidates
Both Beshear and Presley have been lauded for their strength as candidates in the two states.
Beshear is about to wrap his first four-year term and is one of the most popular governors in America, with strong approval ratings both from Democrats and some Republicans. According to a Morning Consult poll conducted between July to September 2023, his overall approval rating is 60 percent, while his approval rating from Republicans is 43 percent and his approval rating from independents is 58 percent.
This support should help him face what's expected to be a tight race. The state leans Republican, with registered Republicans comprising 45.8 percent of the electorate, Democrats making up 44.2 percent, and independent or third-party voters making up 10 percent, as of May 2023. In federal presidential and Senate elections, state voters have consistently voted for the Republican nominee in recent years, and the GOP has even gained ground. Beshear's solid approval rating from Republicans and independents, however, suggests that he could pick up some crossover voters who are willing to split their ticket.
"In Kentucky, you have a governor who is proven, who has a high approval rating, and that's one of the biggest predictors we look at for whether a governor is going to win reelection," says Jessica Taylor, an expert on gubernatorial elections at Cook Political Report.
Much of Beshear's support seems to stem from his successful leadership of the state both economically and during multiple crises. In the course of Beshear's tenure, Kentucky has attained one of the largest budget surpluses in its history, much of which has gone into its "rainy day fund." The state has also attracted major external investment projects related to battery manufacturing for electric vehicles. Additionally, voters have praised Beshear's leadership during a series of crises including the Covid-19 pandemic, when he held nightly briefings about the status of the virus in the state; a tragic Louisville bank shooting in which one of the governor's "closest friends" was killed; and severe flooding in the state that required rebuilding in many parts of Kentucky.
Presley has similarly drawn attention for how much his candidacy has resonated in a state that has rarely considered Democratic leaders for this role. Prior to his run, his most high-profile role was serving as the head of Mississippi's public service commission, where he helped increase access to high-speed internet in rural parts of the state and tried to increase accountability for utility costs. Before that, he was the mayor of Nettleton, in northern Mississippi.
His personal narrative is among the factors that have appealed to voters: Presley has spoken about how he was drawn to public service after his family endured poverty for years and after his father was murdered when he was 8. He's also related to Elvis, which is less central to his campaign but a familiar reference to voters.
Presley's positions on the issues are key for a Democrat hoping to succeed in Mississippi as well, says Taylor. He's taken a populist policy stance and argued that the campaign is less about party and more about outsiders versus privileged, well-connected insiders.
To that effect, Presley has emphasized his efforts to increase transparency in government operations while working to tie Gov. Reeves to an ongoing corruption scandal.
Presley has alleged that Reeves was involved in a scandal in which $77 million in welfare funds were diverted to other projects, including one overseen by Reeves's personal trainer. Reeves denies these allegations, noting this misappropriation took place before he was governor (though Democrats are quick to note that he was lieutenant governor at the time).
Even prior to these attacks, Reeves was a divisive figure in the state, where he has had relatively low approval ratings. According to the fall Morning Consult poll, he had a 46 percent approval heading into the election. Additionally, actions like his use of a state jet have made him seem out of touch. Reeves's close election in 2019, during which he eked out a win by a little over five percentage points, has also added to perceptions of his vulnerability.
To pull off a win, Presley will need to rally the Democratic base in Mississippi — which has included about 40 percent of voters in recent presidential elections — as well as secure some crossover Republicans and remaining independents. If enough Republicans are disillusioned with Reeves, Presley could also benefit from lower GOP enthusiasm and turnout. He still faces an uphill fight, though, given Reeves's incumbency and the state's Republican majority.
Localized policy positions
Beshear and Presley have also focused their campaigns heavily on state-specific issues in an apparent bid to avoid getting bogged down by voters' opposition to national Democrats like President Joe Biden, who has seen low approval ratings in recent months.
"You have Republicans that are absolutely nationalizing this race because that's their best course of action," says Taylor. "Beshear wants to keep this race focused on what he's done for the state. … For Presley, being tied to national Democrats is a scarlet letter in Mississippi, and he's really had to make this about state issues."
Beshear has centered much of his campaigning on the state's low unemployment rate; a slew of business investments, including a new project from Ford; and the state relief funds that were established for communities to rebuild after devastating tornadoes and floods.
"This race is about Kentucky," Beshear told the New York Times. "It's about what's going on in our houses, not about what's going on in the White House."
Beshear has also focused on abortion rights and called out Kentucky's near-total abortion bans. In November 2022, voters in Kentucky voted against supporting a state constitutional amendment that would ban abortion. Republicans, meanwhile, have put forth attacks about Biden's leadership and Beshear's ties to the president, argued that Beshear is to blame for rising crime rates, and criticized his vetoing a measure that would ban gender-affirming care for minors.
In Mississippi, Presley has talked extensively about support for Medicaid expansion, which would allow the state to provide insurance coverage to more low-income people and receive more federal funding, an idea that's long been popular with voters on both sides of the aisle. An expansion could help provide coverage for 100,000 uninsured low-income adults and give a much-needed funding infusion to local hospitals. Additionally, Presley has described how he would gut the 7 percent grocery tax, which is one of the highest in the country and unpopular with voters. On social issues, Presley has positioned himself as more conservative, including stating that he's anti-abortion.
Much as in Kentucky, Reeves and Republicans in Mississippi have worked to tie Presley to Biden and progressive icon Sen. Bernie Sanders (I-VT) in an attempt to suggest that he is too liberal for the state. Reeves, as an incumbent, has also focused on his own economic record, including the state's low unemployment rate and the influx of new businesses, like Steel Dynamics, conducting operations in Mississippi.
Big fundraising numbers and outreach
Both Beshear and Presley have been strong fundraisers, and that has helped to keep the races competitive as well.
"You have two Democrats who have raised good money; it's attracted attention from the national party that's put money into there," says Taylor.
In Kentucky, Beshear has raised $10.5 million since winning the Democratic nomination, and Cameron has raised $3.4 million since the primaries, according to Louisville Public Media. Additionally, Beshear and the Democratic Governors Association have collectively spent $45 million on ads, compared to Cameron and Republican groups, which have spent $27.5 million, Politico reports.
In Mississippi, Presley has also outraised Reeves, bringing in $7.9 million compared to the Republicans' $5.1 million since the start of this year, according to a September AP analysis. That same analysis found that Reeves had spent $6.8 million to Presley's $6.9 million.
Reeves, however, started with significantly more cash on hand, including $7.9 million in his two campaign funds, which means he still had about $4.9 million to spend at the end of September, compared to Presley, who had $1.8 million at that same time.
Presley has also invested in Black voter outreach that builds on organizing work by groups like Black Voters Matter, a vital effort in a state where Black voters make up 40 percent of the electorate. Securing strong Black voter turnout will be crucial for Presley to get the support he needs to either score a win this week or, more likely, push Reeves to a runoff election on November 28 if neither candidate receives more than 50 percent of the vote.
In both states, Democrats' solid fundraising hauls, as well as the assists from national Democratic organizations, are contributing to a significantly more contentious race.
Sourse: vox.com