President Joe Biden tested negative for COVID-19 on Tuesday following first lady Jill Biden testing positive Monday night, the White House said.
"He is not experiencing any symptoms," press secretary Karine Jean-Pierre told reporters at her daily White House briefing, noting that the first couple had last been together on Monday.
"As far as the steps that he's taking since the president was with the first lady yesterday — he will be masking while indoors and around people in alignment with CDC guidance," she said.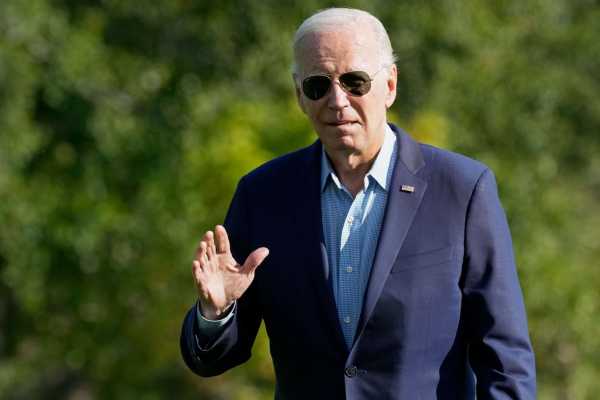 President Joe Biden waves as he walks on the South Lawn as he arrives at the White House, Sep. 4, 2023, in Washington.Manuel Balce Ceneta/AP
MORE: COVID hospitalizations increase for 6th consecutive week but still at historic lows
"And as as has been the practice in the past the president will remove his mask when sufficiently distanced from others indoors and while outside as well," she added.
"The CDC (Centers for Disease Control and Prevention) guidelines recommended combination of masking testing and monitoring for symptoms. The president is doing all of that, in close consultation with his physician. There are currently no updates to the White House COVID-19 protocols," Jean-Pierre said.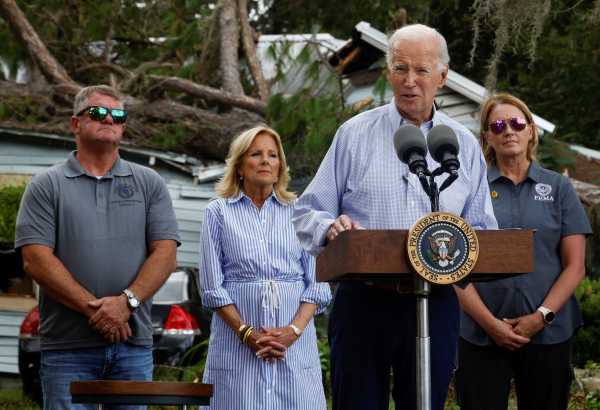 President Joe Biden speaks near a damaged building, in front of first lady Jill Biden, during their tour of Hurricane Idalia storm destruction, Live Oak, Fla., Sept. 2, 2023.Evelyn Hockstein/Reuters
MORE: New COVID variant BA.2.86 is now in 5 states. Here's what to know
She added that Jill Biden, who visited Florida with her husband on Saturday, was experiencing mild symptoms and will remain in Delaware for the week.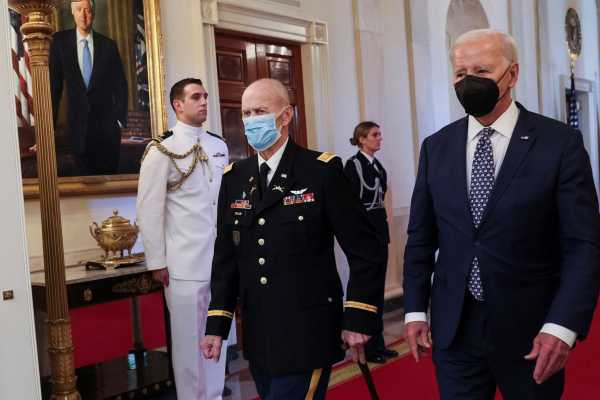 President Joe Biden escorts Medal of Honor recipient retired Army Captain Larry Taylor as they arrive for the medal presentation ceremony in the East Room at the White House in Washington, Sept. 5, 2023.Leah Millis/Reuters
President Biden wore a mask as he entered a Medal of Honor ceremony at the White House Tuesday afternoon but took it off to speak and didn't put it back on when he stood next to Army helicopter pilot Larry Taylor for four minutes and while he placed the medal around Taylor's neck. Biden is 80 years old and Taylor is 81.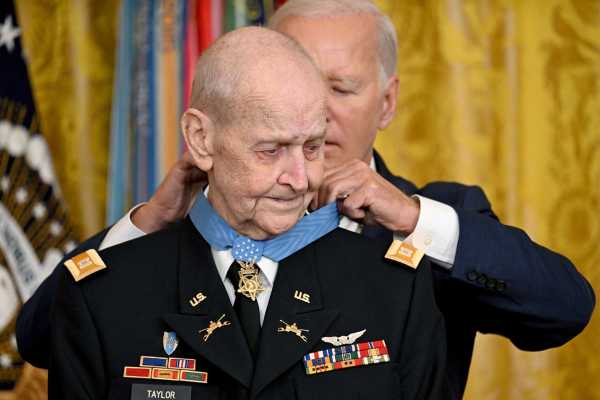 President Joe Biden presents US Army Captain Larry Taylor (L) with the Medal of Honor during a ceremony in the East Room of the White House in Washington, DC, on Sept. 5, 2023. Taylor, a former Army helicopter pilot, is being awarded the Medal of Honor for his actions during the Vietnam War on June 12, 1968.Jim Watson/AFP via Getty Images
Biden walked out of the room without replacing his mask as well.
He is supposed to leave for the G-20 summit in India on Thursday followed by a visit to Vietnam.
The White House said the president would continue to be tested at a "regular cadence" and that all travelers would be tested before the trip.
"Of course, he's going to be cautious," Jean-Pierre said.
Also at the briefing, national security adviser Jake Sullivan said the administration has been able to manage summit and COVID in the past.
"We have a long experience now from the early days the administration in managing for situations in which COVID plays a role in summits and, you know, we've seen various leaders at various times participate virtually in events," he said.
Jean-Pierre also told ABC Chief White House Correspondent Mary Bruce that White House staff are still required to test when around President Biden or any of the principals when asked about current White House protocols.
"Anytime we're around any of the principals, we do test," she said. "That has been … the way we have moved forward for the past — almost two years here. So, that has not changed. No other, no White House protocol is going to be changing."
Sourse: abcnews.go.com