Republicans don't seem to know how to stop bleeding support from the suburbs.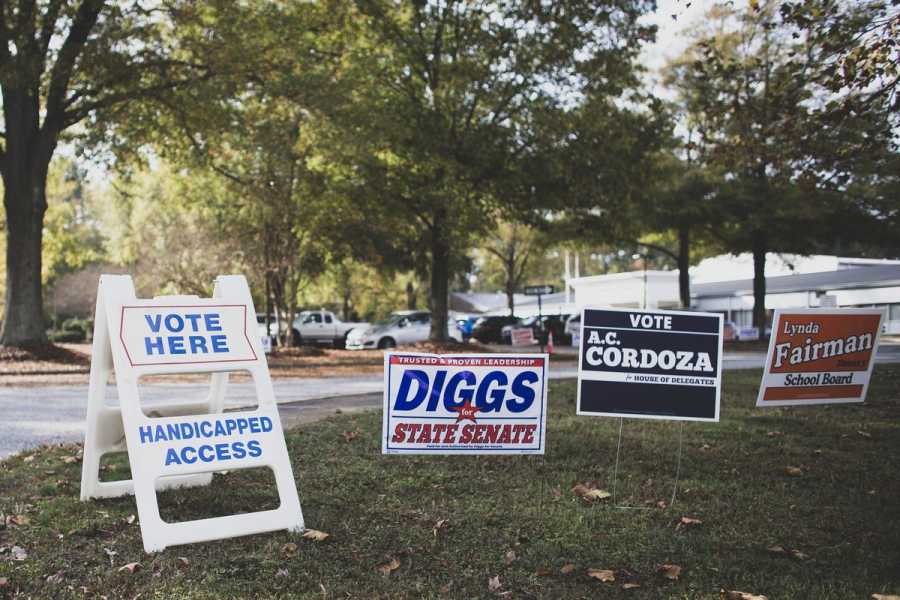 Voting signs outside a polling place during the 2023 state elections in Yorktown, Virginia. John C. Clark / The Washington Post via Getty Images Christian Paz is a senior politics reporter at Vox, where he covers the Democratic Party. He joined Vox in 2022 after reporting on national and international politics for the Atlantic's politics, global, and ideas teams, including the role of Latino voters in the 2020 election.
The victories Democrats racked up on Tuesday night spanned safe blue states, Trump country, and one-time battlegrounds: A popular governor was re-elected in Kentucky; Virginia Democrats flipped control of the state house and kept their majority in the state senate; Democrats reversed GOP gains in New Jersey's legislature; Pennsylvania voters delivered a Democratic romp in statewide contests; and the liberal positions won big in Ohio's two ballot measures to enshrine the right to an abortion and to legalize marijuana.
Post-election vote totals show that much of that success was due to a very specific kind of American: affluent, college-educated voters who are likely to live in the suburbs of metropolitan areas. In Kentucky, that means the areas in and around Louisville, where vote totals from the secretary of state's office show that Democratic Gov. Andy Beshear improved his 2019 margins by nearly 10 percentage points; the counties in and around Lexington, where he improved by an average of 9 points; and in the three northern counties that sit across the state line from Cincinnati, Ohio, where vote totals show he improved by an average of 3 points.
Ohio was a similar story: The "Yes" vote on Issue 1, which protects reproductive rights, saw its biggest support come from major urban centers and their suburbs, where it performed better than the Democratic Senate nominee in last year's elections. Vote totals tallied by the New York Times show the "Yes" vote performing 6 points better in and around Cleveland, 11 points better in neighboring Lorain County, and 8 points better in nearby Summit County. It also won the vote outright in five other neighboring counties that Democrats lost last year.
This picture also appeared in the suburbs of Virginia, Pennsylvania, and New Jersey, where vote totals reported by these states show a common theme: Suburbs, and places with higher concentrations of wealthier and better-educated voters, swung to the left. It's a trend that's been largely true since the dawn of the Trump era: Republicans have been consistently struggling to perform as well as they once did in the suburbs, giving Democrats an opening to persuade and turn out voters that are crucial to winning statewide races in battleground states.
This year's results show this big problem for Republicans isn't going away anytime soon. The party's conservative stances on cultural issues and Donald Trump's style of politics have already contributed to major shifts in suburbs toward Democrats; and now the continued salience of pro-abortion rights politics is accelerating, or at least sustaining, suburban voters' lurch away from Republicans.
Those suburbs contain large concentrations of high-propensity voters — those most likely to vote in any election — with college degrees and high incomes. They live in economically vibrant and growing regions outside of major cities, as well as in large towns and smaller cities. They were once swing voters, but have moved more solidly Democratic since 2016. And they're the reason Democrats did so well during the 2018 and 2022 midterms, as well as why they were able to win so many competitive contests in 2020's presidential-year elections.
Across many of this year's races, abortion rights were a major motivator in boosting Democrats among these voters — just like last year. The issue was central to Beshear's campaign in Kentucky and a focal point in Virginia Democrats' and Republicans' closing arguments in legislative elections.
The major exception to this trend was in the suburbs of New York City, on Long Island. There, Republicans performed well in local elections that largely centered on crime and migration concerns in the city and where abortion wasn't a major issue, showing just how hard it is to disentangle the polarizing effect of the GOP's anti-abortion rights brand in states where those protections are at risk.
But where abortion was at issue, Democrats dominated.
Virginia's suburbs and urban centers were a prime example. Democrats managed to flip or narrow the margins of Republican victories in suburban state house and senate seats where abortion politics were the main theme of both Republican and Democratic candidates' closing arguments, Chaz Nuttycombe, the director of CNalysis, an election-forecasting group based in Virginia, said. In the Richmond suburbs, Democrats flipped the competitive 16th senate district, and came within two points of flipping the overlapping 57th house seat, where the Democrat was also facing a sex scandal. Democrats also won the contest for House District 97 in suburban-ish Virginia Beach, and competitive races to represent the Northern Virginia suburbs of Loudoun and Prince William counties. In the statewide contests for various Pennsylvania courts, Democratic candidates swept. Vote totals show that the candidate for state supreme court, Daniel McCaffery, improved on Sen. John Fetterman's 2022 vote share in three crucial counties surrounding Philadelphia: Montgomery, Bucks, and Chester, where McCaffery did about 3 points better on average than Fetterman.
Voters have a problem with Republican extremism
The GOP's problems go beyond abortion, however. Reproductive rights are one plank in the Democrat's case against Republicans to these voters, but the GOP's stances on election denialism, book bans, anti-trans legislation, gun control, and anti-immigrant proposals are all parts of this anti-extremist pitch to suburban and well-educated voters as well.
"These places are places where you used to have Chamber of Commerce Republicans, and now you have their grandkids who are much more progressive," D. Stephen Voss, an associate professor of politics and elections analyst at the University of Kentucky, told me. "People talk about abortion as a mobilizer for upper-status professionals, and it is, it's a part of what you're seeing … a backlash against the culture war conservatism of the Republican Party."
In Kentucky, that leftward shift wasn't limited to just suburbs, but generally appeared in places with concentrations of wealthier and better-educated voters, Voss said.
"If you only look at our very limited suburban counties, you're missing that this trend among affluent professionals is having a wider impact than merely in places we call suburbs," he said. He highlighted places like Oldham County in Kentucky — more of a large town than a suburb — where Beshear improved on his 2019 results by 3 points.
This trend has held strong since 2016, when suburban and college-educated voters lurched away from Donald Trump for Hillary Clinton. They had been much more likely to side with Republicans as recently as 2014: In Northern Virginia, Virginia Beach, and the Richmond suburbs, Republicans had won or run nearly even with Democrats in the suburbs; the same was true in places like suburban Colorado, Georgia, and Wisconsin in 2012 and 2014.
In the "blue wave" of the 2018 midterms, these more diverse and highly educated regions voted out Republican members of Congress. And the suburban shift contributed much of the margin of support that buoyed Joe Biden to victory in battleground states in 2020 and helped Democratic candidates win in close midterm elections last year.
The common line? Ideological polarization around social issues and Trump's brand of politics.
Abortion politics have played a huge role in this since 2022, but the shift in the suburbs and with more affluent college graduates predates the Dobbs decision ending the federal right to an abortion. In Virginia and Pennsylvania, politics around schools and education, gender identity, and crime all joined abortion as issues that voters kept top of mind. "In conjunction with abortion is the other layered-in kind of Republican social agenda that is just so repellent to the country," a Democratic campaigner in suburban Bucks County told the Philadelphia Inquirer. "Voters in the largest swing county in the most important swing state uniformly rejected that."
Other Democrats say something similar: "The driving force of our politics since 2018 has been fear and opposition to MAGA," longtime Democratic strategist Simon Rosenberg told The Atlantic's Ronald Brownstein after Tuesday's results. "The truth is, what we're facing in our domestic politics is unprecedented. Voters understand it, they are voting against it, and they are fighting very hard to prevent our democracy from slipping away."
That general brand of MAGA Republicanism — socially conservative extremists who threaten basic freedoms — was toxic in swing suburban counties during last year's midterms especially, and Democratic candidates from Nevada and Arizona to Georgia and Wisconsin seized on that messaging and were largely successful.
What the last few special, off-year, and midterm elections have shown is that the trend of Democrats performing well in suburbs and among wealthier and better-educated voters continues. That Democrats can do well in an off-year when these are the kinds of voters most likely to turn out is not a surprise. But it should still serve as a warning to Republicans that their branding problem with these voters isn't just going to go away. Democrats have a big opportunity to shore up support among these communities and continue to frame Republicans as politically toxic — especially with Trump at the top of the ticket.
Sourse: vox.com