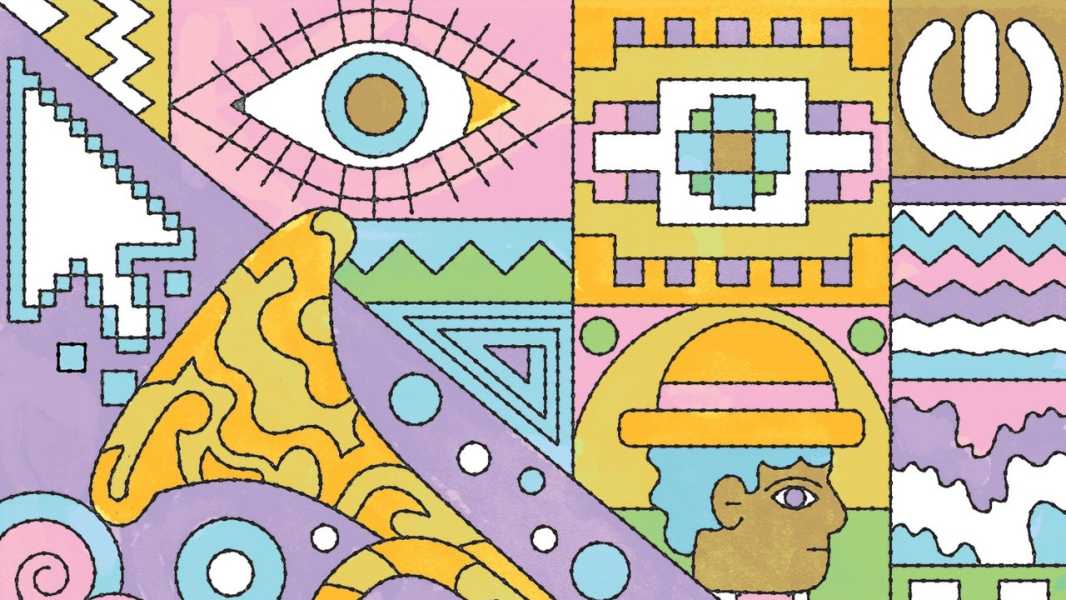 Save this storySave this storySave this storySave this story

Shauna Lyon
Goings On editor
You're reading the Goings On newsletter, a guide to what we're watching, listening to, and doing. Sign up to receive it in your in-box.
For our winter culture preview, our critics round up the most exciting events on the jam-packed calendar. Oscar season—which kicked off earlier than usual, this summer, with two culture-dominating blockbusters—is in full swing, with such delights as Bradley Cooper's "Maestro," a bio-pic of Leonard Bernstein centered on his love life; Ava DuVernay's "Origin," about the journalist Isabel Wilkerson's path to writing the seminal book "Caste: The Origins of Our Discontents"; Emerald Fennell's louche fish-out-of-water fantasy "Saltburn"; and Yorgos Lanthimos's "Poor Things," starring Emma Stone as a woman brought back to life by a scheming scientist. At the theatre, we're looking forward to Michael R. Jackson and Anna K. Jacobs's musical adaptation of the kooky-scary vagina-dentata movie "Teeth." St. Ann's Warehouse puts on "Life & Times of Michael K," adapted, with puppets (by Handspring, of "War Horse"), from J. M. Coetzee's 1983 novel of apartheid-driven civil war in South Africa. Seeking a burst of joy? Sutton Foster appears in "Once Upon a Mattress," for the "Encores!" series, just a couple of weeks before heading to Broadway to step into Annaleigh Ashford's bloody good comedic shoes as Mrs. Lovett in "Sweeney Todd," opposite Aaron Tveit as the titular lead, who replaces Josh Groban, in February. (There's still time to catch the excellent original cast.) Madonna graces both Barclays and Madison Square Garden with the Celebration Tour (the set list appears to be epic), and Mariah Carey rings in the holidays as only Mariah can, also at M.S.G. Then the chilly months are warmed up by Mitski, Sleater-Kinney, and Brittany Howard (of Alabama Shakes). Art highlights include the Met's sprawling survey of the Harlem Renaissance and MOMA's Joan Jonas retrospective. In dance, Philip Glass's piano études inspire various dancemakers, and Pina Bausch's indelible "Rite of Spring" is performed by the Senegalese choreographer Germaine Acogny's École des Sables. On New Year's Eve, the Met Opera unveils a new "Carmen," and a starry Carnegie Hall season features Bryn Terfel, Daniil Trifonov, and Víkingur Ólafsson. We'll see you there.
Jump to: Art | Theatre | Contemporary Music | Movies | Dance | Classical Music
ART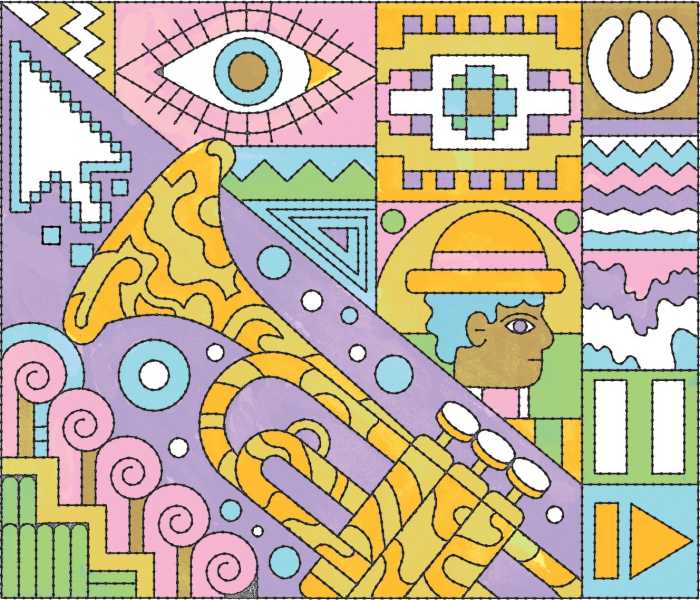 Illustration by Nolan PelletierZines, the Harlem Renaissance, Joan Jonas
The American Folk Art Museum doesn't get enough love, so it's fitting that its big winter show should riff on the theme of neglect. "Unnamed Figures: Black Presence and Absence in the Early American North" (opening Nov. 15) bills itself as a "corrective" to the notion that early American racism was a "largely Southern issue," but that description seems too modest by half. Some hundred and twenty-five works, made between the late seventeenth century and the early nineteenth, offer a vibrant, occasionally tragic view of Black life above the Mason-Dixon Line.
Later in November, the Brooklyn Museum gives another neglected subject some overdue attention. "Copy Machine Manifestos: Artists Who Make Zines" (Nov. 17) is the first major North American exhibition to explore the fanzine, one of the more eclectic forms of media of recent decades. Close to a thousand art works take us on a tour of punk, queer, and hip-hop subcultures, all of which revelled in the zine's versatility. Some notable artists featured here, such as Carolee Schneemann, are well known for their other creations, but the majority are hardly known at all. Better late than never.
Maren Hassinger, who turns seventy-six this year, did some of her most powerful work in media so unorthodox that they make zines look like watercolors. In 1983, she mounted bunches of iron cables onto cement bases and called the result, which looks a little like a mass of wheat stalks, "Field." As the title might suggest, Hassinger's art keeps one foot in the natural world and the other in industry. The sculpture's display at Dia Beacon (Dec. 16) represents its welcome return to the public eye after a hiatus of more than thirty years.
Harold Cohen, a painter and a lecturer at U.C. San Diego, authored several versions of AARON—one of the earliest artificial-intelligence software programs capable of making art—between 1968 and Cohen's death, in 2016. The program's creations, on display at the Whitney, include drawings and paintings, both in color and in black-and-white, some representational and others abstract. (There will be live demonstrations of AARON's artistic process.) One can't help but wonder what sort of work the program would be doing had its inventor lived even longer—and, the way things are going, whether there will be sentient androids, eager to honor their illustrious ancestor, by the time that "Harold Cohen: AARON" (Feb. 3) welcomes patrons through the doors.
A century on from the Harlem Renaissance, cultural historians still aren't sure what to do with it. The Met's ambitious survey—the first in any New York City art museum since the eighties—makes the case for the movement as a form of modernism: regional yet international, tied to the Great Migration and Jim Crow but also to Egyptian aesthetics and the European avant-garde. Roughly a hundred and sixty works of photography, sculpture, film, and painting appear in "The Harlem Renaissance and Transatlantic Modernism" (Feb. 25), some from the museum's permanent collection and others on loan from historically Black colleges and universities.
The art of Joan Jonas, now eighty-seven, resists categorization, but MOMA is making an attempt. The retrospective "Joan Jonas: Good Night Good Morning" (March 17) is a hearty stew of video, film, sculpture, photography, drawing, and dance, often addressing themes of gender, performance, and ecology. Jonas has a thing for folklore, as evidenced by the installation "The Juniper Tree"; some of her recent work incorporates ideas inspired by marine-biology research, creating a mood both scientific and mystical.—Jackson Arn
The Theatre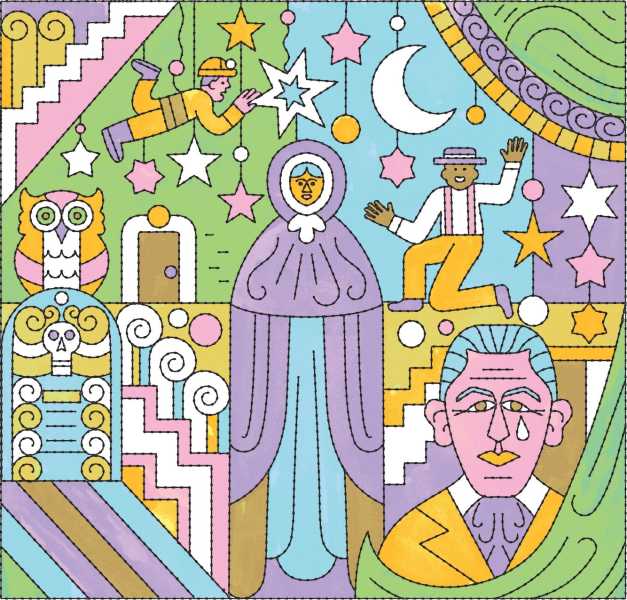 Illustration by Nolan PelletierAlicia Keys, "Teeth," the Pinball Wizard
After a stately programming pace this fall, the theatre goes into a full gallop as the nights get longer. It begins with a burst of biographical musicals, including "Hell's Kitchen" (Public Theatre; starting previews on Nov. 19), by and about, in some elliptical way, Alicia Keys; "The Gardens of Anuncia" (Vivian Beaumont; Nov. 20), written by Michael John LaChiusa, about the director-choreographer Graciela Daniele; and "Buena Vista Social Club" (Atlantic Theatre Company; Nov. 17), Marco Ramirez's dramatization of the creation of the Cuban band's titular album, making for a production full of music.
Around Thanksgiving, just in time for uncomfortable dinner conversations, Sarah Paulson appears in Branden Jacobs-Jenkins's Broadway début, the family drama "Appropriate" (Hayes; Nov. 28), in which white heirs discover their valuable—and morally repugnant—inheritance. In its way, "Life & Times of Michael K" (St. Ann's Warehouse; Nov. 29), a widely toured puppet-centric adaptation of J. M. Coetzee's 1983 novel, set in South Africa, tells a similar story about racism working its slow way through generations.
On Broadway, cold weather calls for sober programming: Manhattan Theatre Club moves Joshua Harmon's "A Prayer for the French Republic" (Samuel J. Friedman; Dec. 19) to Broadway, where its arguments about the promise of Israel will cut particularly deep; Kelli O'Hara and Brian d'Arcy James star in "Days of Wine and Roses" (Studio 54; Jan. 6), Craig Lucas and Adam Guettel's musical adaptation of the movie about alcoholism; and Tyne Daly and Liev Schreiber appear in a revival of John Patrick Shanley's 2004 drama, "Doubt" (American Airlines; Feb. 2), about a nun who mistrusts a priest.
Step away from Broadway one inch, though, and the theatre is kicking up its heels. The "Encores!" revivals program, at New York City Center, has the exuberant Sutton Foster in Mary Rodgers's much beloved "Once Upon a Mattress" (Jan. 24-28), and Billy Porter appears in "Jelly's Last Jam" (Feb. 21-25), George C. Wolfe's fable-tinged tribute to Jelly Roll Morton. The dazzling experimental-theatre festival Under the Radar (Jan. 5-21) scatters its avant-garde, international offerings all over the city; the equally audacious (but even thriftier) Exponential Festival produces mostly in Brooklyn spaces, throughout January, with a program of strange and mind-opening fare.
Off Broadway truly stretches its legs as the year turns. The Signature Theatre took the fall off, but it returns, at last, with Dominique Morisseau's "Sunset Baby" (Jan. 30), a drama about a Black revolutionary political prisoner and his estranged daughter. Two of my favorite shows from 2023 are receiving encores: Shayok Misha Chowdhury's English-and-Bangla bilingual masterpiece, "Public Obscenities" (Polonsky Shakespeare Center; Jan. 17), and Joey Merlo's "On Set with Theda Bara" (the Brick; Feb. 6), an eerie séance-play performed by David Greenspan, who channels multitudes. And, speaking of discombobulation, Michael R. Jackson, "A Strange Loop" 's brilliant composer, has written a musical adaptation, with Anna K. Jacobs, of the vagina-dentata movie "Teeth" (Playwrights Horizons; late Feb.), which should take a nice bite out of the season.
And then it's almost spring, a time flooded with splashy Broadway musicals, including "Water for Elephants" (Imperial; Feb. 24), an adaptation of the Sara Gruen book, by the rollicking, folksy PigPen ensemble; Ingrid Michaelson and Bekah Brunstetter's adaptation of "The Notebook" (Schoenfeld; March 14); and "The Who's Tommy" (playing a mean pinball at the Nederlander; March 8). Finally, beginning on an as yet unspecified day in March, Jeremy Strong appears on Broadway in "An Enemy of the People," Amy Herzog's version of Henrik Ibsen's cautionary tale about inconvenient truths. Will the part win Strong a Tony? One can only assume that "Succession" 's eldest boy will know how to make a run at the crown.—Helen Shaw
Contemporary Music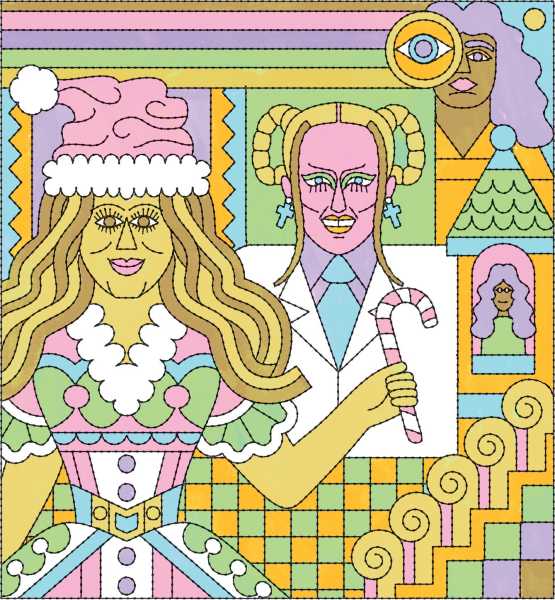 Illustration by Nolan PelletierEarl Sweatshirt, Cat Power, Madonna
There are two distinct lines of thought regarding genre in music: some artists see themselves as disrupters, others as archetypes. This binary plays out in a winter concert season dominated by artists at different stages of their careers, both surveyors looking to expand their sound and pioneers who've settled into various niches. Either approach can (and does) lend itself to invigorating live performance.
A few rap craftsmen put their dexterity on display. At Brooklyn Steel, the savant turned sage Earl Sweatshirt connects with his longtime collaborator, the underground beat-maker the Alchemist (Nov. 22), and the inquisitive former poet Noname (Nov. 27) carries on with the meta hip-hop commentary of her recent album, "Sundial." On Jan. 26, the fellow-Chicagoan Mick Jenkins hits Racket with his own sonorous wordplay, exploring personal growth and momentum.
For those looking for something with a bit more punch, there are a handful of rockers making heavy music that's so pretty it can scan as power pop. On Nov. 17, at Irving Plaza, the punk-rock collective the Armed cuts post-hardcore songs with electronica. Webster Hall plays host to two shows of varying intensity: the metal band Baroness with the riffy hard-rock group Sheer Mag (Nov. 29) and the indie star Sky Ferreira (Dec. 11), whose only album, "Night Time, My Time," from 2013, remains a thrashing, grungy pop milestone.
Indie-rock icons press on with new music, lean into the weight of their discographies, or tap into the legacies of other luminaries. At Kings Theatre, on Nov. 24, the seminal singer-songwriter Liz Phair, who returned from a decade-long recording hiatus, in 2021, with the album "Soberish," unleashes clearheaded music of separation. At Carnegie Hall, on Feb. 14, Cat Power sings songs by the great Bob Dylan. Patti Smith and Her Band returns to Brooklyn Steel for two shows (Dec. 29-30), and the same venue welcomes the riot grrrls Sleater-Kinney (Mar. 13-14), débuting music from the group's upcoming album, "Little Rope."
For something subtler, try Helena Deland, a singer-songwriter who makes serene folk music (Music Hall of Williamsburg; Nov. 18), or Mitski, indie rock's reigning sad sovereign, who's playing seven shows in N.Y.C. for her new album, "The Land Is Inhospitable and So Are We," at the Beacon Theatre (Feb. 21-24) and Kings Theatre (Feb. 26-28).
At the Blue Note, various boundary-pushing soul musicians continue journeys into the unknown. The psychedelic artist Nick Hakim loses himself in bleary R. & B. Nov. 14-15, and later in the month, Nov. 30-Dec. 4, the multi-instrumentalist Cautious Clay leans into the jazz flourishes of his amorphous new album, "KARPEH." Kassa Overall, a Seattle drummer and sometime rapper, straddles the rhythmic realms of jazz and hip-hop with poise (Jan. 15). And, in a somewhat dramatic transformation, Corinne Bailey Rae trades in the snuggly pop soul of such breakthrough singles as "Like a Star" for the daring eclecticism of her album "Black Rainbows" (Feb. 15-18).
The jazz drummer Makaya McCraven shows off his beat-maker impulses at Pioneer Works on Dec. 1, and the poet aja monet brings the political jazz of her début album to the same venue on Dec. 6. Two experimental auteurs operating at similar frequencies take turns at Webster Hall: first up is the Alabama Shakes front person Brittany Howard (Feb. 16-17), then the R. & B. singer Jamila Woods (Feb. 18).
And, with the dawn of a new year, pop divas take over the arenas. After a stint at Barclays Center (Dec. 13-14 and Dec. 16), Madonna brings the Celebration Tour, exploring music from across her storied four-decade catalogue, to Madison Square Garden (Jan. 22-23 and Jan. 29), where the melisma master Mariah Carey officially christens the Christmas season on Dec. 9 and Dec. 17, the last show of her holiday tour.—Sheldon Pearce
Movies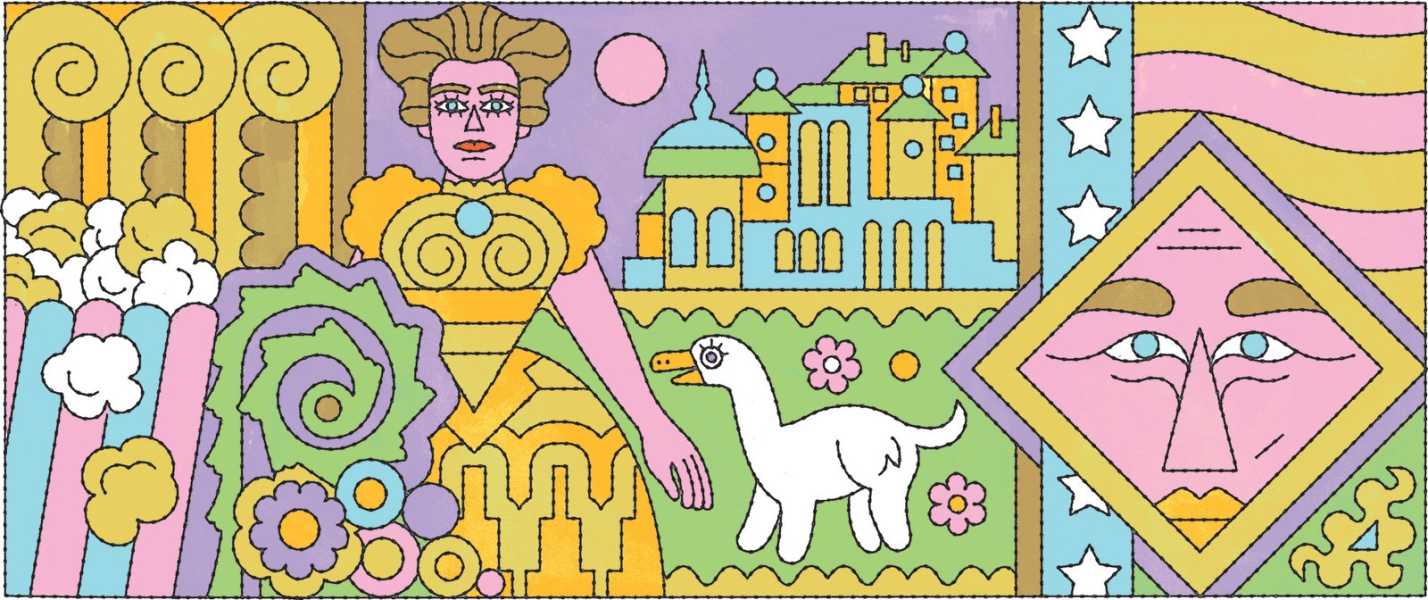 Illustration by Nolan PelletierLiterary Ambition, Bio-Pics, Melodrama
For movies, the end of the year is a season of Oscarizables, and that means it's often replete with notable literary adaptations. This year's batch includes "Eileen" (Dec. 1), based on a novel by Ottessa Moshfegh and directed by William Oldroyd. The drama, which takes place in Massachusetts in 1964, features Thomasin McKenzie as a young employee at a correctional facility who is drawn into an intense friendship with a recently arrived psychologist (Anne Hathaway). "Poor Things" (Dec. 8), based on a book by Alasdair Gray, is a Victorian-era fantasy, directed by Yorgos Lanthimos, about a woman (Emma Stone) who is brought back to life and experiences her return as an emotional and sexual liberation. Willem Dafoe and Mark Ruffalo co-star. The writer and director Jonathan Glazer's adaptation of Martin Amis's novel "The Zone of Interest" (Dec. 8) is the story of the first commanding officer of Auschwitz, Rudolf Höss (Christian Friedel), and his wife, Hedwig (Sandra Hüller), who attempt to maintain an ordinary family life in a house just beyond the death camp's walls. "The Taste of Things" (Dec. 13), directed by Trần Anh Hùng, is based on a novel, from 1924, by the food writer Marcel Rouff; it's a tale, set in France in 1885, about a chef (Juliette Binoche) and a restaurateur (Benoît Magimel, Binoche's husband) who become romantically involved after decades of working together. Roald Dahl's children's book "Charlie and the Chocolate Factory" returns to the screen as "Wonka" (Dec. 15), a musical, directed by Paul King, starring Timothée Chalamet as the mysterious chocolatier. Blitz Bazawule, a musician as well as a filmmaker, directs a movie based on the Broadway musical of Alice Walker's novel "The Color Purple" (Dec. 25), starring Fantasia Barrino, Phylicia Pearl Mpasi, Taraji P. Henson, and Colman Domingo.
The end-of-year bio-pics on view this season have a global reach. Ridley Scott's grand-scale historical drama "Napoleon" (Nov. 22), which features a wide range of battle scenes, stars Joaquin Phoenix as the French general and emperor and Vanessa Kirby as the conqueror's first wife, Josephine. "Maestro" (Nov. 22), directed by and starring Bradley Cooper, follows the composer and conductor Leonard Bernstein from his days of struggle in the nineteen-forties through his rise to international fame; at its center is the relationship between Bernstein and his wife, Felicia Montealegre (Carey Mulligan), which was complicated by his bisexuality. Ava DuVernay's new film, "Origin" (Dec. 8), is among the most distinctive of recent bio-pics; it's the story of the journalist Isabel Wilkerson, who, amid grievous personal losses, is inspired to write "Caste: The Origins of Our Discontents" (which was published in 2020). The movie, starring Aunjanue Ellis-Taylor as Wilkerson, dramatizes the author's research in India and in Germany and, with extensive quotes from the book, features reënactments of historical events that she narrates and analyzes. Adam Driver flaunted an Italian accent in "House of Gucci," in 2021, and he does so again, as Enzo Ferrari, in Michael Mann's "Ferrari" (Dec. 25), about the automaker's effort, in the nineteen-fifties, to become a kingpin of motor racing.
Melodrama gets its scholarly and critical due, and several films of that passionate genre are on the season's slate, including the writer and director Emerald Fennell's "Saltburn" (Nov. 17), which stars Barry Keoghan as a poor Oxford student who, after being invited to the lavish estate of a wealthy classmate (Jacob Elordi), is caught in a web of decadence and conflict. In "All of Us Strangers" (Dec. 22), directed by Andrew Haigh, a London screenwriter (Andrew Scott) begins a relationship with a neighbor (Paul Mescal) and is drawn back to his late parents' small-town home—only to find them there alive, as his contemporaries.—Richard Brody
Dance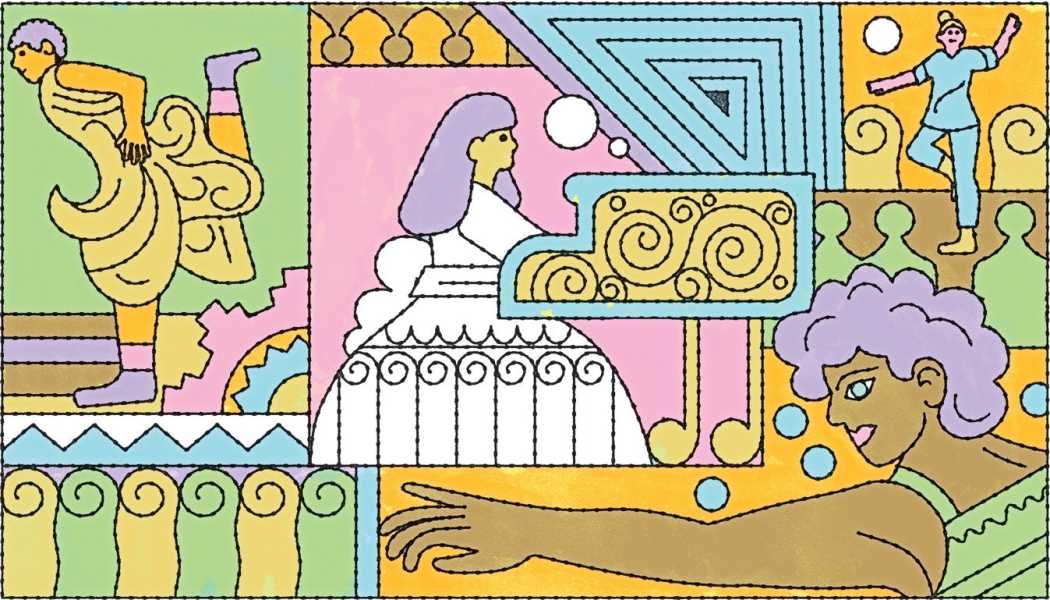 Illustration by Nolan PelletierPhilip Glass, Pina Bausch, Hervé Koubi
The project "Dancing with Glass: The Piano Etudes" arose from an idea first explored at the outdoor festival at Kaatsbaan: parcel out Philip Glass's piano études to a select group of choreographers and see what happens. Now part of Van Cleef & Arpels's inaugural Dance Reflections festival, the program (at the Joyce Theatre; Nov. 28-Dec. 10) consists of five dances, including a laid-back, rhythmic meditation by the Brazilian-born tap artist Leonardo Sandoval; a spare and formal duet by the high priestess of dance minimalism Lucinda Childs; and an expansive, full-body ode choreographed and danced by Chanon Judson, the artistic director of Urban Bush Women. The pianist is Maki Namekawa.
Stravinsky's "Rite of Spring" has also proved irresistible to choreographers. The late Pina Bausch's interpretation—created for her company, Tanztheater Wuppertal, in 1975—remains one of the most memorable. Lacerating and relentless, it is danced on a mound of dirt that sticks to the dancers' sweaty skin. In "The Rite of Spring/Common Ground[s]" (Nov. 29-Dec. 14), Bausch's piece is performed, in the commanding space of the Park Avenue Armory, by a company of dancers from across Africa, which the Senegalese dancer and choreographer Germaine Acogny assembled from her school, the École des Sables. It is paired with a duet for Acogny and a veteran of the Bausch company, Malou Airaudo, both in their seventies.
The dancers of Compagnie Hervé Koubi (Joyce Theatre; Jan. 23-28) come from North Africa. Koubi, who is French, is of Algerian descent, a fact that he discovered as an adult. That revelation brought him to a new dance language, inspired by the beauty and the virtuosity of his dancers, mostly self-trained in hip-hop and martial arts. In "Sol Invictus," as in previous works, they fly through the air, spin, and glide, or they join forces to carry and catch one another from great heights, creating images of solidarity, elegance, and wonder.
After a fall season devoted to Balanchine, New York City Ballet returns with six weeks of mixed repertory (David H. Koch Theatre; Jan. 23-March 3), including a new work by the dancer Tiler Peck—known for her sophisticated musicality—and another by Alexei Ratmansky, recently appointed artist-in-residence. A new generation of dancers takes on Christopher Wheeldon's striking "Polyphonia," a suite of starkly intimate dances set to moody piano pieces by György Ligeti, from 2001. And, in Balanchine's intensely romantic "Liebeslieder Walzer," four couples live out intimate dramas to the music of Brahms, performed onstage by two pianists and a vocal quartet, as if at a private soirée.—Marina Harss
Classical Music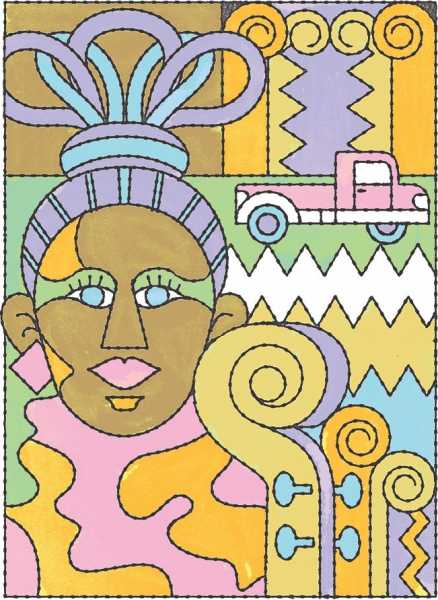 Illustration by Nolan PelletierCarnegie Stars, Tributes to Luminaries
As the end of the year approaches, companies are wrapping up anniversary celebrations and finding ways to mark the holidays which don't involve entering the crowded "Messiah" field.
At the 92nd Street Y, New York, the free-spirited pianist Conrad Tao interweaves Rachmaninoff with Billy Strayhorn and Stephen Sondheim for the Russian composer's hundred-and-fiftieth birthday (Dec. 6). The soprano Barbara Hannigan, a fiercely beautiful interpreter of modernist and contemporary scores, fêtes John Zorn for his seventieth, at Miller Theatre (Nov. 16). The New York Philharmonic puts a bow on György Ligeti's centennial with a pairing of his glacial-galactic "Atmosphères"—which Stanley Kubrick borrowed for "2001: A Space Odyssey"—with Holst's "The Planets" (select dates Nov. 22-25).
For New Year's Eve, the Metropolitan Opera premières its new production of Bizet's endlessly popular "Carmen," exactly fourteen years after it introduced its previous one. The aching compassion of David Lang's "Little Match Girl Passion," about a poor waif who perishes in the winter cold, has made it an unlikely holiday favorite, and the singers of Ekmeles present it in a crypt under the Church of the Intercession, in Harlem (Dec. 8 and Dec. 11-12). The Perelman Performing Arts Center builds a four-part series, "Circle Songs," around the winter solstice, with genre-spanning concerts by Anthony Roth Costanzo, Toshi Reagon, Time for Three, and Orfeh and Andy Karl (Dec. 20-23).
Nine pianists, including Nico Muhly and Maki Namekawa, take the stage of David Geffen Hall, where they play through the complete collection of Philip Glass's mesmerizing études (Nov. 19). The new-music specialists Adam Tendler and Conor Hanick tear into two driving pieces for four-hand piano, Steve Martland's "Drill" and Julius Eastman's "Gay Guerilla," at Kaufman Music Center (Nov. 28).
The WQXR host Terrance McKnight taps a quartet of singers for "Handel: Made in America," an original show that combines personal reflections with the Baroque composer's music, at the Metropolitan Museum of Art (Feb. 15-16).
On the festival circuit, the Prototype Festival and the Brooklyn Academy of Music collaborate for the first time, on Huang Ruo's "Angel Island" (Jan. 11-13), a theatre piece that adapts poems by Chinese immigrants scrawled on the walls of detention centers in California. The Escher String Quartet undertakes all six Bartók quartets in the course of three hours, with two intermissions, as part of the Chamber Music Society of Lincoln Center's winter festival (March 10).
Carnegie Hall's calendar is particularly plentiful this winter: Daniel Barenboim, having stepped down from the Berlin State Opera earlier this year, conducts the city's resident ensemble, the Staatskapelle Berlin, in a sonorous cycle of Brahms symphonies (Nov. 30-Dec. 1). The Inauguration poet Amanda Gorman and the German cellist Jan Vogler team up (Feb. 17), combining spoken word and Bach cello suites. The opera stars Bryn Terfel (Nov. 14) and Juan Diego Flórez (Nov. 29) stay in their respective wheelhouses, with British songs and lots of Rossini, and the elegant pianists ​​Daniil Trifonov (Dec. 12) and Víkingur Ólafsson (Feb. 7) overachieve in the towering assignments of Beethoven's "Hammerklavier" Sonata and Bach's Goldberg Variations.—Oussama Zahr
P.S. Good stuff on the Internet:
Chet Baker performs "I'm a Fool to Want You"
Werner Herzog on "Conan O'Brien Needs a Friend"
Why we're drawn to horror movies and haunted houses
An earlier version of this article misstated the opening dates of "On Set with Theda Bara" and "The Taste of Things."
Sourse: newyorker.com