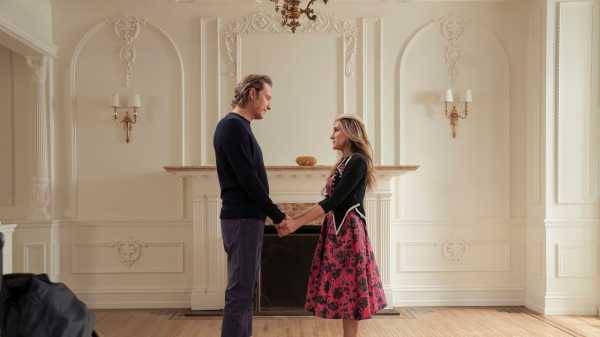 Save this storySave this storySave this storySave this story
An episode late in "And Just Like That . . ." 's second season introduced a previously unthinkable scenario: that Carrie could sell her Upper East Side brownstone apartment, one of the few constants in the quarter-century-old "Sex and the City" franchise. After the death of her longtime love interest, Mr. Big, in the pilot of the sequel series, Carrie left their marital home and moved back into her cozy if lavishly reupholstered one-bedroom suite, her determination to start over in widowhood echoing the defiantly not-sad singledom of her thirties. The original show sold its urban romance through that third-floor walkup: Carrie kissed countless men on its stoop, looked out its street-facing window while typing her weekly column, and (somewhat implausibly) stored a warehouse's worth of designer duds in its huge-for-New-York closet. The setting was so vital to the series' appeal that fans made its front steps a tourist destination. But, in "And Just Like That . . .," when Carrie rekindles her relationship with another "Sex and the City"-era paramour, Aidan, two decades after their broken engagement, he refuses to set foot in the unit where she confessed to her affair with Big. And so she calls up her friend and real-estate agent, Seema, to purchase a four-bedroom mansion in Gramercy Park—the kind of house that could accommodate a life with Aidan and his sons, should the boys visit one day. The apartment is poised to go to Lisette, an artsy, lovelorn neighbor who's undergoing some housing drama of her own, and in whom Carrie sees her younger self.
Real estate is the yardstick by which "Sex and the City" measured some of its biggest developments. After Carrie and Aidan's engagement ended, she nearly lost her apartment—he'd bought the place when her building went co-op, with the intention of moving in—until Charlotte came to her financial rescue in one of the show's most explicit endorsements of female friendship over heterosexual compromise. Charlotte secured her own abode after the dissolution of her impulsive first marriage, and Miranda marked her commitment to her growing family by moving from her prewar in Manhattan to a larger town house in Brooklyn. "And Just Like That . . ." has continued to use home-hopping as an indicator of the characters' states of mind on an even grander scale, helped by the fact that the core trio has, since the "Sex and the City" days, come into near-fantastical wealth. Early on, in the midst of her grief over Big, Carrie moves into an all-white, oppressively modern downtown eyesore. She buys and sells it in the span of a single episode—congrats to Seema on that commission, I guess—then settles back on the U.E.S.
For a franchise (and nostalgic viewers) struggling to recapture a precise mix of material fantasy and emotional relatability, Carrie's apartment has been an oasis. It's arguably the only facet of the series that's been updated without losing its former magic, the giant teal flowers in her living-room wallpaper and the matching jewel-toned bookshelves as exuberant and unexpected as the best of her fashion. The first season received criticism for portraying middle age as dreary—the protagonists grappled with death, decay, and a doddering cluelessness regarding social change. For all their affluence, no one had a job or a partner worth envying anymore, and, without the return of the "Sex and the City" costumer Patricia Field, even the outfits fell flat. The characters' adventures, too, have turned insular and domestic. Carrie and Aidan spend much of their time together in the blank box of an Airbnb that the pair rented as a love nest. For most of the series, Charlotte could reliably be found in her kitchen or in her children's bedroom, and her friend Lisa is forever being interrupted by her husband or offspring in the walk-in closet where she apparently edits her documentaries.
Carrie was the early two-thousands' most influential flâneuse, and real estate should be the natural compensatory pleasure of following around the kind of women that she and her coterie have become—style-minded spenders who take pride in their knowledge of the city and are very, very rich. That would explain why the most developed member of the new ensemble is Seema, a high-end broker with a built-in reason to showcase Manhattan's most eye-popping residences, and why many more scenes take place at home. Absent other sources of aspirational allure, the series dangles the possibility of house porn early and often.
And yet the vast majority of those would-be indulgences are as underwhelming as the story lines. The sophomore season has taken viewers to many a grandiose domicile, but it struggles to convey luxury with personality, and thus luxury worth coveting. In contrast to the storybook Manhattan of the original series, "And Just Like That . . ." seems to emphasize the profound sterility of so many New York properties. Where Carrie's apartment is a gorgeous reflection of her style, Charlotte's Park Avenue flat only showcases her stuffy side, and Lisa's office-closet is uncharacteristically beige. (This, lest we forget, is a woman who attended the Met Gala in a crimson Valentino gown with a train that could upstage a peacock and a headpiece that transformed her into an otherworldly dandelion.) The glorified loft inhabited by a tech founder who briefly dates Carrie, the thirty-seven-thousand-dollar-a-month apartment that Seema shows a Marvel director, and even Seema's own place all feel depressingly nondescript. Law professor Nya's warm-toned, brick-lined, academia-core bachelorette pad might be the closest thing that the new show has to an enviable, individualized space—but, once Miranda becomes Nya's reluctant roommate, it's treated primarily as a site of discomfort.
Occasionally, we get flashes of the aesthetic eclecticism that was so integral to the old series' charm. In "And Just Like That . . ." 's first season, Carrie happily ended a night eating popcorn in her apartment in a dove-gray Versace gown with a prodigious mille-feuille skirt. She describes the dress as her "pride and joy," and it was apt that she would rather risk getting Jiffy Pop grease on it than let it stay in the closet, pristine and unappreciated. Perhaps that's why her Gramercy Park digs are so disappointing. Rather than attesting that new beginnings await in one's silver years, the plot point lands as yet another miscalculation of which elements of "Sex and the City" to jettison, and which ones to cherish. That the acquisition was motivated by her wan, rushed, retconned romance with Aidan is disenchanting enough; the blandly opulent, distinctly un-Carrie look of the place is an added blow. There's plenty to criticize about her taste, but she's never tried so hard to hide it. ♦
Sourse: newyorker.com