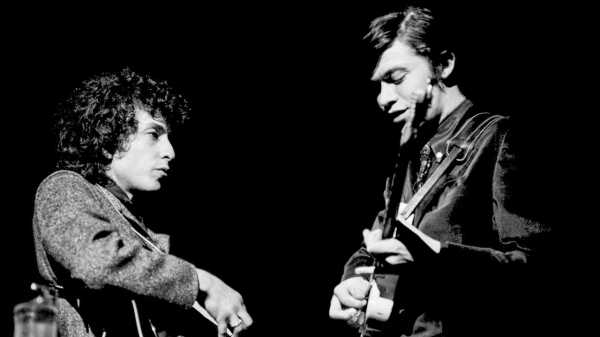 Save this storySave this storySave this storySave this story
The wounded sense of what might have been that's hovered over the story of the Band since Robbie Robertson walked away from the group in 1976 swelled miserably this month with the surprising news that Robertson had died, at age eighty. It was a sombre moment even for those who had long since come to resent the guitarist-songwriter for his role in dissolving what some believe was one of the greatest ensembles of the rock era, a kind of North American Beatles. (Although the Band has been credited with helping forge the sound now known as Americana, four of its five members were from Canada.)
That original group was never going to get back together. The pianist Richard Manuel hanged himself in a Quality Inn bathroom after the Robertson-less Band played the Cheek to Cheek Lounge, outside of Orlando, in 1986. Thirteen years later, the bassist Rick Danko's heart gave out at age fifty-five, and, in 2012, the drummer Levon Helm succumbed to throat cancer. The multi-instrumentalist Garth Hudson, eighty-six, is the lone surviving member. But, in our minds and in our dreams, the Band played on. They've always been right there, immortalized on celluloid as they bid farewell in Martin Scorsese's elegiac concert film, "The Last Waltz." They've been there, too, whenever Bob Dylan's thunderous 1966 and 1974 tours have been evoked, or when we watched "Easy Rider" or when the needle dropped on a record like their self-titled second album, a near-perfect collection of songs that—though it was released in 1969—sounds as though it might have been written while accompanying Matthew Brady as he made Civil War daguerreotypes.
That sense of unfulfilled promise is perhaps at its most acute when one is cueing up the informal recordings that Bob Dylan made with the group in upstate New York in 1967. This is the mysterious, ineffable music that inspired Greil Marcus to coin the term "the old, weird America" in his attempt to describe the disparate strains and influences that seem to percolate beneath its opaque surface. It's a collection of more than a hundred different songs made when no one was looking, a motherlode of scraps, one-offs, covers, and gems now known as "The Basement Tapes."
Not only are most of the tunes heard on "The Basement Tapes" not greatest hits, many are barely even songs. They're ideas, feelings, whims. It's music that wasn't recorded so much as captured, mid-transmission, as it travelled from muse to receivers. What's heard in each take is the moment of inspiration, the very second that the fire truly catches and comes roaring to life. Neither Dylan nor the Band sound like themselves here––not like they ever sounded before, and not like they ever would again. The songs, the performances, and the feeling of these recordings, in fact, don't sound like anything made anywhere, at any time, by anyone.
Listen to "All You Have to Do Is Dream (Take 2)." Like many of the best "Basement Tapes" takes, it's a song that existed only on pirated recordings until being formally released in 2014, part of Dylan's ongoing "Bootleg Series." The mischievous glee in Dylan's voice here makes the nonsense he's spewing not only convincing but even compelling. Does it follow that the love he feels for his intended is akin to the financial overhead a farmer with only limited storage capacity must bear? Yes, it does. Might the object of his affection enjoy being seduced in "some nice, young up-to-date kitchen" where there are any number of grinning "floor birds" hanging around? Nothing unusual about that. And the singer's gang, the group not yet called the Band? They're on hand to proudly support their wild-eyed leader's high jinks, joining him vocally at the end of every verse. They've never known exuberance like this; their fists are raised to the sky, their heads thrown back in jubilation. What in this whole wide world, indeed, could be better than the sight of those crazy floor birds, birds that "just grin from ear to ear"?
Listen to more of these songs. A few, like "I Shall Be Released," "You Ain't Goin' Nowhere," and "Quinn the Eskimo (The Mighty Quinn)" have become ubiquitous, but check out tracks like "Sign on the Cross" and "I'm a Fool for You (Take 2)" and "I'm Not There (1956)" and "One Man's Loss" to hear some of the greatest songs never finished. Why didn't Dylan and the Band ever complete them? When Dylan next went into a real recording studio, later that same year, to make "John Wesley Harding," why didn't he include a single one, or bring the Band with him? Why did these guys wait seven more years to collaborate on new material again, and why did it result in the earthbound "Planet Waves"? Dylan has toured pretty much non-stop since the late seventies—why did he never bring any of the Band back on the road with him?
Since the original Band disbanded, there have been only a few random, unsatisfying collisions between these men—Dylan showing up a couple of times at the now defunct Lone Star Café in Manhattan to join Danko and/or Helm on a few songs; Danko arriving as a surprise walk-on at a 1997 Dylan show in Wallingford, Connecticut; the reconstituted Band, minus Roberston and Manuel, performing at Dylan's thirtieth-anniversary concert, at Madison Square Garden; and Dylan joined by Helm, Danko, and Hudson (and a few others) for exactly one song at Bill Clinton's first inaugural party, in Washington, D.C. In each instance, the fact that they were onstage together again was exciting; the music that resulted was not.
But then came the startling report, just a few years ago, that Dylan had tapped Robertson to play on "Rough and Rowdy Ways," Dylan's most recent album of new originals, and that the guitarist had had to decline because of other commitments. What? There had never been a hint, in the decades since "The Last Waltz," that these two had had any sort of interaction, musical or otherwise. And, indeed, when Robertson died, Dylan released a statement calling the news "shocking" and describing Robertson as "a lifelong friend." At eighty-two, Dylan remains active (he finished a European tour last month and has just announced a string of fall dates here in the States), so as long as this old sparring partner of his was still around, there seemed to be a real chance that maybe, just maybe, the pair could again make some of that old wildfire.
At the 1:37 mark on "All You Have to Do Is Dream (Take 2)," there's the briefest of instrumental breaks, and Robertson's guitar takes flight, flying up there with those smiling floor birds, rising up with them and giving release, finally, to the tension that's been building throughout the song. It's glorious, it's cathartic, and it lasts for all of a few seconds before sputtering out into nothing, like the end of every one of the song's verses.
There is no known third take of this song, and no finished version. This is all we have—one of any number of peeks into the ragged, hold-nothing-back laboratory of ideas that characterized these unique sessions, and then nothing. As with so much related to the history of Dylan and the Band, it's a tantalizing, heartbreaking glimpse into what was, what could have been, and what we now know—with certainty—will never be again. ♦
Sourse: newyorker.com