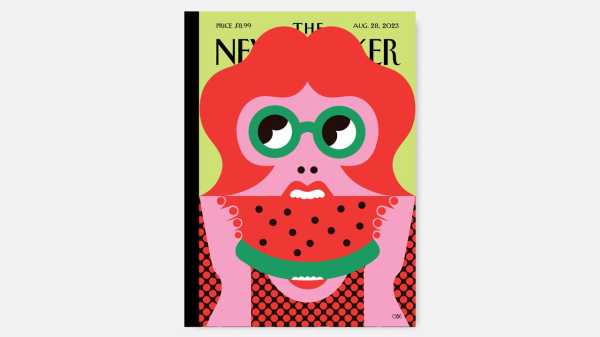 Save this storySave this storySave this storySave this story
August is summer's fulcrum. The season is at its best, with crackling storms washing away days of sticky heat, and fruits and vegetables spilling out of garden beds. There's a hint of cool in the air and a vague threat of evenings expiring before their prime. Every moment demands to be savored. In her new cover for the August 28, 2023, issue of The New Yorker, Olimpia Zagnoli, an artist based in Milan, captures our hunger for the last bites of summer's tang. I talked to Zagnoli about the color and dimensions of an August atmosphere.
This cover is an ode to summer. What's the best part of the season for you?
Summer is the season of contrast, the season of intense flavors, smells, colors, and sounds. From the cicadas singing in the countryside to the scent of urine in the city; from the violent hailstorm that whitens streets in a matter of seconds to the deep blue of the sea; from the aroma of helichrysum bushes in the sun to the juicy red of a slice of watermelon.
Color plays a significant role in your work. Do you have a method for keeping track of combinations you like?
I don't have a method for anything, really, but I treat colors very seriously, and I always approach them from scratch. I don't have a palette that I use as a reference every time. I like to spend hours, sometimes days, choosing my colors, and I find the balance that contributes to the atmosphere I want to lend to the piece.
Which artists or art movements do you look to for inspiration?
They change constantly as my taste evolves and embraces new things. At the moment, I'm looking at the work of painters like Peter Halley, Milton Avery, Paule Vézelay.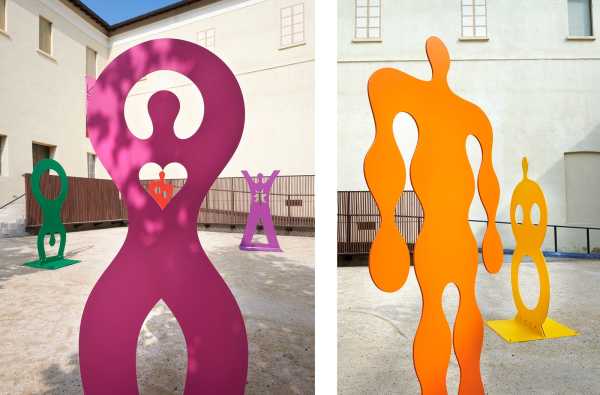 The sculpture garden at "Caleidoscopica," an exhibition that showcases Zagnoli's work across ten years.Photograph courtesy Miro Zagnoli
You draw, and you also make sculptures and ceramics. What do you like about each medium?
I like the idea that a two-dimensional drawing can cut itself free from the page and enter the three-dimensional world. A lot of my sculptures, installations, and public art projects are based on two-dimensional sketches that come to life through different materials such as metal, plexiglass, clay, or cement. I like to consider what's behind the front of a drawing. What does its back look like? What about the sides? And how does it create a dialogue with the space around it? Being inspired by Alexander Calder, I'm really interested in exploring space.
For more covers about the joys of summer, see below: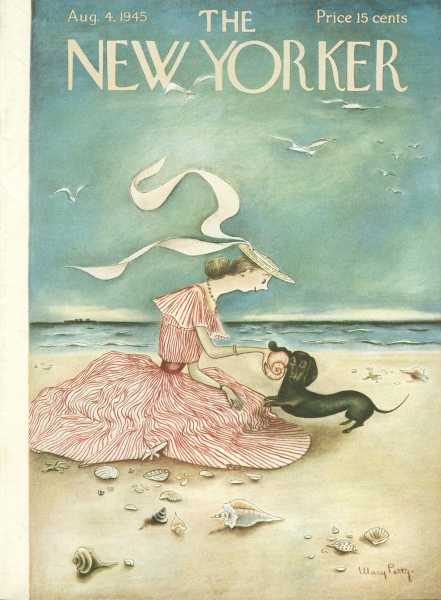 "August 4, 1945," by Mary Petty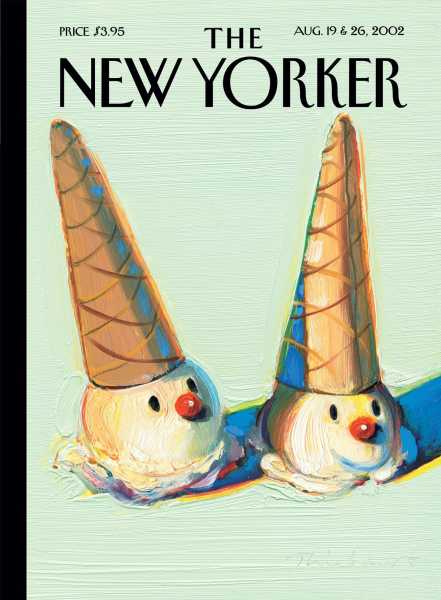 "Jolly Cones," by Wayne Thiebaud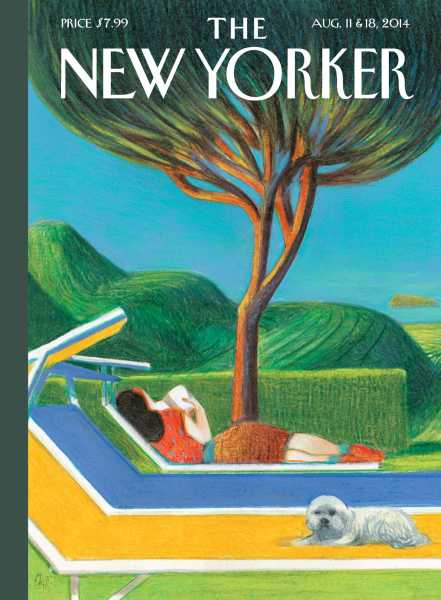 "Siesta," by Lorenzo Mattotti
Find Olimpia Zagnoli's covers, cartoons, and more at the Condé Nast Store.
Sourse: newyorker.com