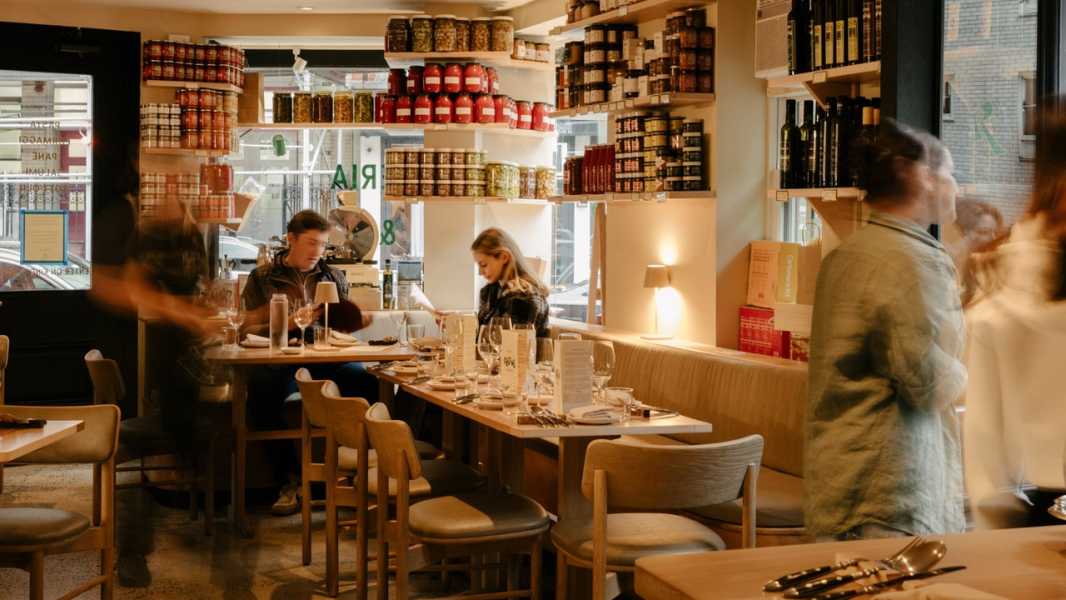 Save this storySave this storySave this storySave this storyYou're reading the Food Scene newsletter, Helen Rosner's guide to what, where, and how to eat. Sign up to receive it in your in-box.
If you've ever been a tourist in Rome, odds are that someone has exhorted you to visit Roscioli. The family of businesses includes the original Antico Forno Roscioli, situated in a two-hundred-year-old bakery; Salumeria Roscioli, a deli-style-grocery-cum-restaurant; Roscioli Caffe e Pasticceria, home to the TikTok-famous maritozzi cream bun; and Rimessa Roscioli, a sleek, wine-focussed dining room. If you've made the pilgrimage to any of these locations, you're likely to have been confronted with a horde of other tourists following similar advice. All of you have lined up together, in pursuit of what has been described as the best pizza in Rome, the best salumeria, the best pasta. I've never been to Rome, so I can't weigh in on the worthiness of that endeavor, but now Roscioli has come to New York. There are no lines down the block just yet, though competition for tables on Resy is fierce.
Roscioli
43 MacDougal St.
Tasting menu $130; à-la-carte dishes $8-$60
The New York Roscioli is a collaboration between Alessandro Pepe, the head sommelier of Rimessa Roscioli, and Ariel Arce, a New York City restaurateur who has a knack for serving wine—an act that, even at its most scintillating, is always at least thirty per cent tedious—in a way that feels urgent and alive. At her now-closed SoHo restaurant Niche Niche, which occupied the space that now houses Roscioli, Arce adhered to a "dinner party" format, with diners served nightly set menus of food-and-wine pairings, at strikingly affordable all-inclusive prices, that showed off a particular producer or region or theme. Famous sommeliers would come through to show off rare selections, legendary cellars would be raided for no better reason than it was a Wednesday, and it was New York, and why the hell not. The wine was great, but, more important, it was selected for you, which robbed it of its powers of intimidation—all that was left was pure enjoyment. In 2021, Niche Niche played host to Rimessa Roscioli for a week of Rome-themed suppers, and from there a partnership was born.
The downstairs dining room at the new Roscioli continues that whole wine-soaked-dinner-party vibe. You arrive at your table and are immediately handed a drink, which gives way to a parade of predetermined courses, and a parallel parade of Italian wines to match. (At a hundred and thirty dollars per person, it remains an almost disorientingly good bargain.) On a recent visit, the opening course was panzanella—the tomatoes semi-roasted, to condense their flavor into a reminder of the Dionysian sweetnesses of late summer. It landed on the table along with a heap of mortadella, sliced whisper-thin, and a plate bearing a milky blob of burrata, doused in golden olive oil and studded with more of those concentrated tomatoes. "We fly the burrata in from Puglia," my server said, as he set down the plate of cheese, and then laughed. "No, seriously, could you imagine the carbon footprint?" The Roman location of Roscioli is a temple to the abundance of Italy; in New York, thanks to import restrictions and logistical impracticalities, the focus has to be on quality rather than provenance. The burrata, warm as breath, bloomed against my knife into a river of sweet cream. The wine, a leaf-yellow Asprinio di Aversa, was frizzy and sharp—like the best pairings, it made everything on the table taste better, brighter, more alive.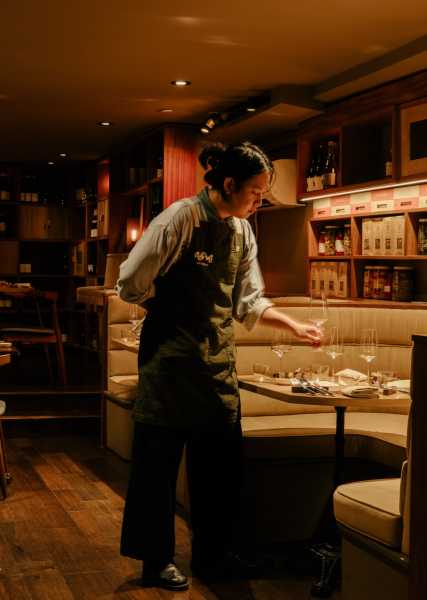 Downstairs is a tasting room offering a set menu of dishes and a parade of Italian wines to match.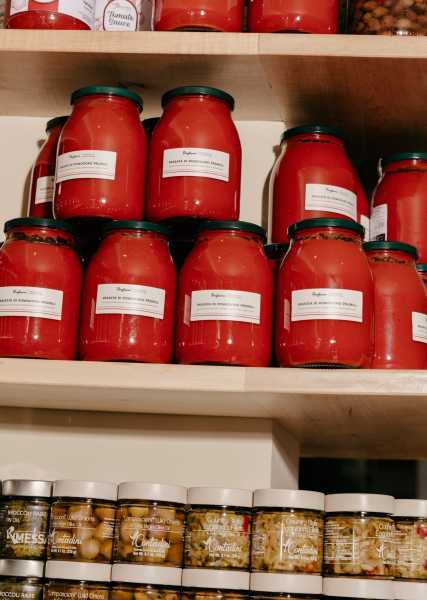 The shelves upstairs are lined with jarred sauces and vegetables preserved sott'olio.
The rhythm of a restaurant changes when everyone in the dining room is eating the same things simultaneously. The kitchen moves quickly, in a practiced choreography, and there are none of the lags or pauses necessitated by a dozen different orders coming in at different times, as in a standard à-la-carte dining room. It's exhilarating and energetic, at first—a propulsive rat-a-tat of activity as the appetizers are swapped out for an impossibly buttery saffron risotto, then an all-time tremendous rendition of pasta carbonara, in which fried slivers of guanciale crackled like tiny morsels of chicharron in the funky-rich emulsion of the sauce. And then, all at once—maybe it was the mood, maybe it was the wine, maybe the pasta was so wonderful that all my circuits blew out—it all seemed like too much, too fast. I craved the pause of a kitchen in the weeds, the welcome breather of a lull between courses. When the next dish came—a meatball (soft, mild) atop a dollop of polenta (mild, soft)—I could hardly bring myself to take a second bite. I wanted to close my eyes. I wanted to hide in the bathroom and do a crossword puzzle on my phone. In a way, it's a testament to the success of the dinner-party model: this is exactly how I feel after about ninety minutes at the table in someone else's home. I wanted to skip dessert completely (tiramisu and a lovely little cannoli, with a perfectly silly glass of Moscato) and slip into the kitchen to eat more carbonara straight from the stove.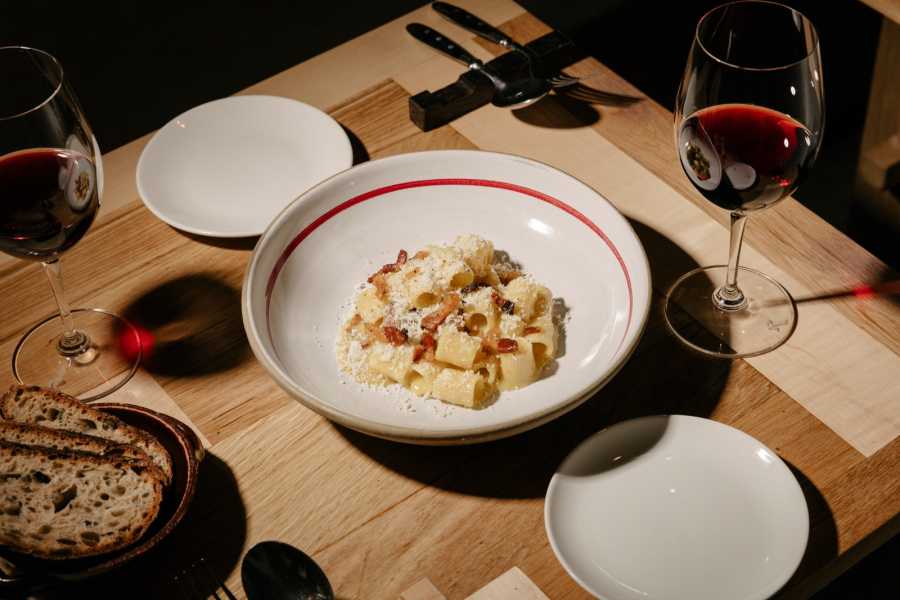 The Roman pastas on the menu include a superior version of carbonara.
In early October, Roscioli opened its "upstairs"—a street-level space—where meals adhere to a more familiar rhythm. There's an à-la-carte menu, and a shop-the-pantry conceit that harks back to the whole dinner-in-a-deli vibe of its Roman progenitor. The walls are lined with shelves bearing packages of dried pasta, bottles of vinegars and oils, and jars of honey and prepared sauces and Italian vegetables preserved sott'olio. Customers eating at a long counter in the back face a glass case of cheeses, meats, breads, and condiments. Everything is for sale, grocery store-style; almost everything is also available to order as components of a wide-ranging menu. That molten puddle of honey in which you dipped a piece of salt-flecked focaccia; those oil-cured heads of puntarelle, with their ghostly bitterness and alien curls; even the caciocavallo, a cheese aged in a clay pot that must be dramatically shattered to get to the pleasures within, are all available to take home, as souvenirs, or trophies. Even without a reservation, you can walk in and shop the provisions of the alimentari (or order online, with in-person pickup). The contents of Alessandro Pepe's extensive Italian wine list (from which the downstairs pairings are drawn) are not for sale directly, though you can get a few bottles by joining the Roscioli Wine Club, a work-around for restrictive retail-spirits laws.
That unreal carbonara is available upstairs, thank God, as are other holy Roman pastas. All'amatriciana (with guanciale and tomatoes) is tart and bright. Cacio e pepe (cheese and pepper) is saved from predictability, and mac-and-cheese adjacency, with the use of springy fresh tagliolini in lieu of more conventional dried noodles. The menu, a wide-ranging tour of Roman classics and modern Romanesque creations, seems designed for grazing: a bite of oxtail-stuffed supplì (fried balls of arborio rice—like arancini, except oblong, and from Rome rather than Sicily); a forkful of paper-thin zucchini fried with mint; a bit of cheese; a bit of prosciutto. I was especially enchanted by a tasting of tunas—crudos of belly and loin, paired with two different oil-cured versions, each form of the fish enhancing the preciousness of every other.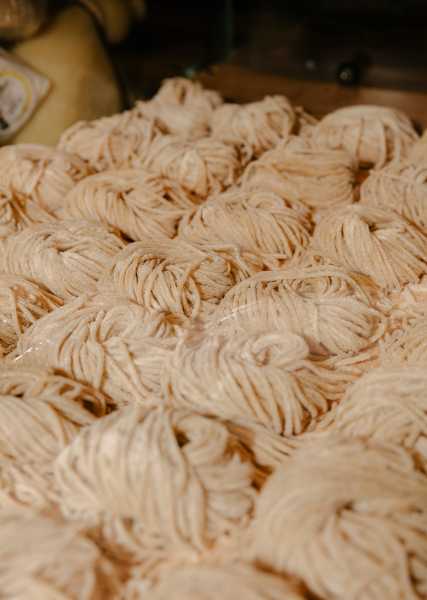 Homemade pasta makes a surprising appearance in Roscioli's cacio e pepe.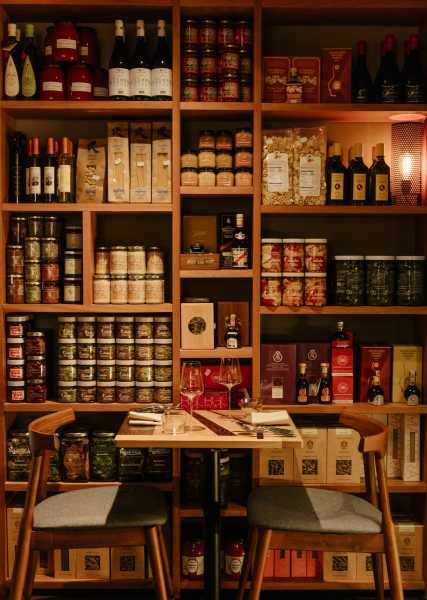 Even without a reservation, you can walk in and shop for provisions.
There was something ineffable—not quite a je ne sais quoi, more like non so che cosa—about the offhand elegance of the place. The tables in the upstairs space are awkwardly cramped, and the room is glaringly loud, with conversations seeming to ricochet off the jars on the walls. But it's an energizing, convivial cacophony. Servers hand out samples of interesting sausages, or climb onto a banquette to reach a particular bottle of oil from a high shelf. Dishes like lamb tartare, with crispy fried capers and an earthy artichoke aioli, or fried baccalà (fresh cod), over a swirl of ultra-floral red-pepper cream, have the easy, sexy lightness of an unplanned meal eaten late: lunch at four, or dinner at eleven, too many glasses of wine, a taxi home. Is it just like being in Rome? I couldn't tell you. But it's absolutely just like being in New York. ♦
Sourse: newyorker.com