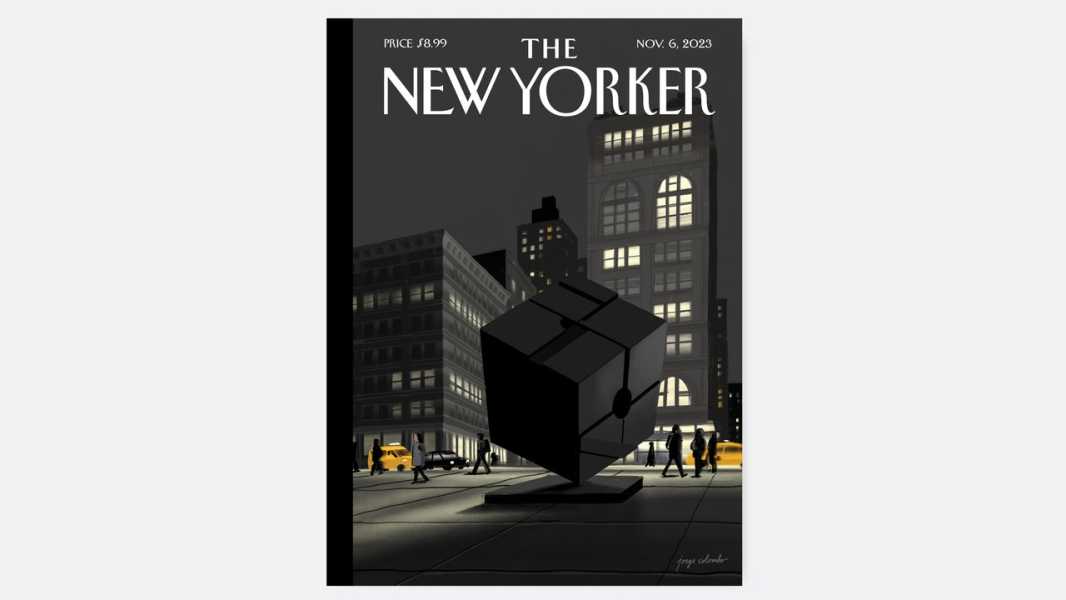 Save this storySave this storySave this storySave this story
In a city as densely constructed as New York, open plazas and courtyards create havens of space—places to gather, to people-watch. And some public art works, like Tony Rosenthal's "Alamo," anchor such spaces, providing landmarks that become synonymous with neighborhoods. The Cube, as it is affectionately called by locals and tourists alike, was placed at Lafayette and Eighth Streets in 1967, as part of an art installation intended to last only six months. Residents of the neighborhood petitioned to keep it, and—aside from brief absences—it has lent its solidity and precarious poise to the Astor Place crossroads ever since. In May, 2023, the Cube was briefly removed to be refurbished off-site, but it was returned to its position this August. I talked to Jorge Colombo, who drew the sculpture for the cover of the November 6, 2023, issue, about community, the city, and the joy of a strong sense of place.
What is your connection to the Astor Place neighborhood?
In 1999, when Ted Keller, the Village Voice's design director, asked me to illustrate Lynn Yaeger's Street Style column, my first assignment was to draw fashion observations gleaned from watching passersby around the Cube. I was new to the city, and creating pen-and-watercolor pictures of New Yorkers made me feel like I belonged, like I was getting the details of my new place right. I lived nearby, and some of my regular spots—Other Music, St. Mark's Bookshop, Tower Records—were right there. St. Mark's was one of the East Village's liveliest venues. Astor Place has changed a lot since, yet it remains an epicenter of my personal New York.
You now live out in the country. Do you experience fall differently?
I live on the main street of a small town. Traffic abounds, so it still feels somewhat urban. But there's one thing I don't get: that sense of fall migration, when Astor Place fills up with flocks of young people. Every fall, I would look at the crowds: different people, same wonderment. You just know that, for many of them, it's their first season in New York, and everything feels like a discovery, an adventure.
You've instituted drawing and photography workshops in your own town. Can you tell me more about them?
I hardly spent any time in art school myself. I know what I missed out on, but I also believe that persistence, curiosity, and enthusiasm can take you far. Even if you just introduce somebody to art or ideas they have never encountered before, that makes a difference. Mentoring can help unlock the skill and potential people have within themselves. One of the activities we do at the 108, my studio barn in Narrowsburg, New York, is drawing sessions, with models, open to people in the town. Some have art training, many of them have none at all, and the mix is invigorating. And I also love drawing on iPads with local kids. The learning curve is lightning fast: children who grew up with touch screens grasp the process very quickly, so we can move to what to do, rather than struggling with the how-to part.
You have now two small kittens, including one who is recovering from surgery. Does caring for them affect your work at all?
The sisters Inky and Sharpie are great alarm clocks. They make sure I am at my desk at regular hours, even if that's not exactly why they wake me up so early. Fortunately, they sleep most of the day, so I still get productive stretches.
For more covers about the city, see below: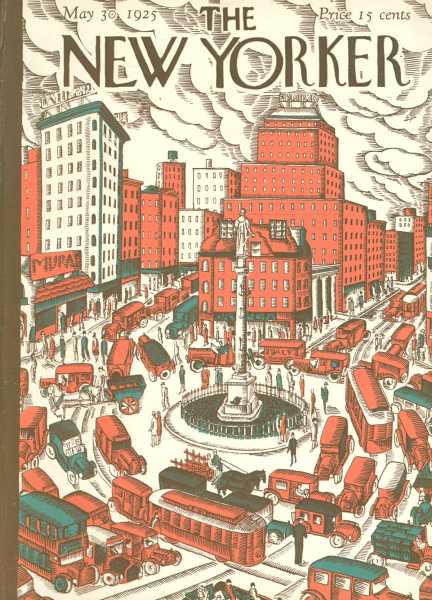 "May 30, 1925," by Ilonka Karasz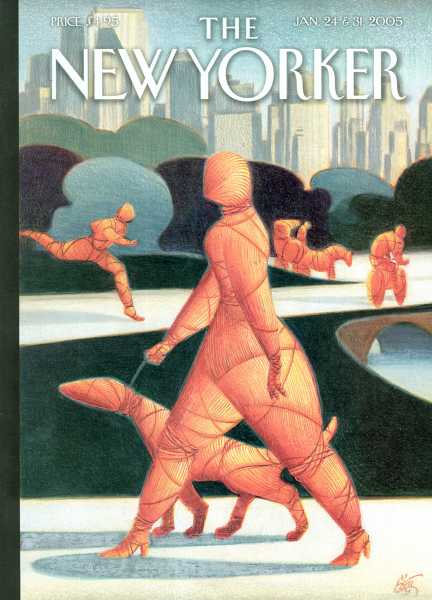 "Central Park Wrapped," by Lorenzo Mattotti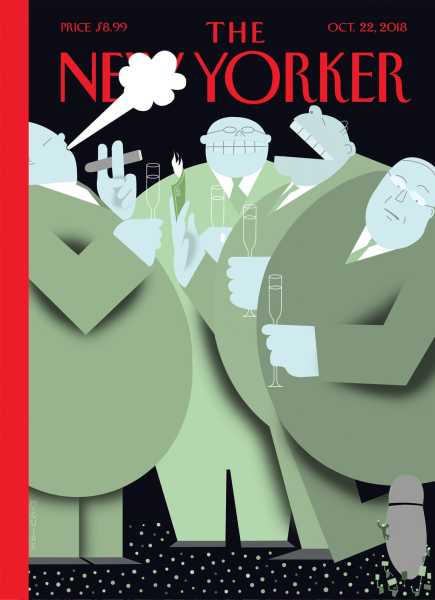 "Winter Delight," by John Cuneo
Find Jorge Colombo's covers, cartoons, and more at the Condé Nast Store.
Sourse: newyorker.com