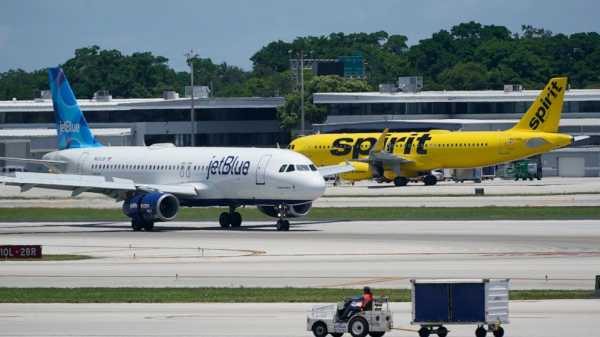 JetBlue Airways estimates that it could raise fares on some routes by up to 40% if it succeeds in buying Spirit Airlines and eliminating the low-fare carrier as a competitor on those routes.
The internal calculations appeared in court filings made earlier this week, and which JetBlue says were not properly redacted.
JetBlue said Thursday that information from the filings is being taken out of context to distort the facts.
Consumer advocates jumped on the news, saying that the accidental disclosure supports the Justice Department's antitrust lawsuit aiming to block JetBlue's $3.8 billion purchase of Spirit, the nation's largest discount airline.
Even before the government lawsuit, lawyers for about two dozen consumers sued JetBlue and Spirit last November in U.S. district court in Boston, claiming that the merger would reduce competition and lead to higher prices.
Documents filed Tuesday in that case were redacted, but in a way that made it possible to see the hidden information by copying and pasting the text into a new document.
The revelation was first reported by Law360, which covers legal news. Law360 told USA Today that the documents are no longer posted publicly.
The documents would seem to undercut JetBlue's argument that consumers would benefit from the merger because the combined airline would be better able to compete against giants like American, Delta and United.
In a statement Thursday, New York-based JetBlue said lawyers for the consumers "failed to properly redact certain information which, taken out of context, creates a completely inaccurate picture of the facts. We are confident that our merger with Spirit will give a much-needed boost to airline competition in the U.S. and result in more low fares and higher-quality service for customers."
Consumer advocates who oppose the JetBlue-Spirit deal said the disclosures support their argument.
"Those of us who have been warning that a JetBlue-Spirit merger would raise fares and stifle competition can now cite an unimpeachable source — JetBlue itself," said William J. McGee, an aviation expert at the American Economic Liberties Project, which lobbies against industry consolidation. "JetBlue's claims that this deal will benefit consumers are hollow and contradicted by JetBlue's own internal schemes."
Sourse: abcnews.go.com