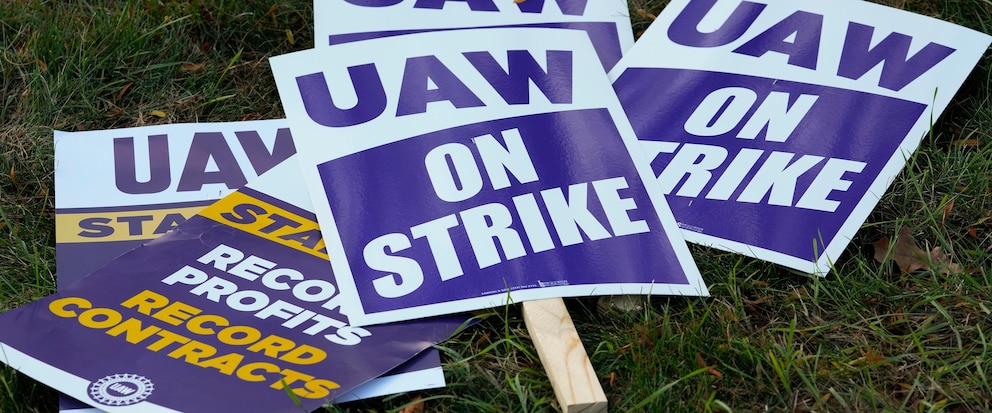 DETROIT — General Motors and the United Auto Workers union reach a tentative contract agreement, according to an AP source.
The deal follows the pattern set with Ford last week and Jeep maker Stellantis over the weekend.
Those deals will last four years and eight months and include 25% general pay raises and cost of living adjustments. Combined they bring the wage increase to over 30% over the four year and eight month life of the contract.
The person briefed on the matter, who didn't want to be identified because they were not authorized to speak publicly aid the deal, was to be announced early Monday.
THIS IS A BREAKING NEWS UPDATE. AP's earlier story follows below.
Pressure is rising on General Motors as the lone holdout in a strike targeting all three big Detroit automakers after a tentative contract agreement with Jeep maker Stellantis was reached with the United Auto Workers union over the weekend.
The UAW reached a tentative agreement last week with Ford and it wasted no time in hitting GM where it hurts financially as the strike enters its seventh week.
Nearly 4,000 unionized workers on Saturday walked out of GM's largest North American plant in Spring Hill, Tennessee, hours after the deal with Stellantis was announced. They join about 14,000 GM workers already striking at factories in Texas, Michigan and Missouri.
Spring Hill produces the engines for vehicles assembled at nine plants as far afield as Mexico, including Silverado and Sierra pickups. It's a big money maker for GM that amplifies the company's financial pain after workers walked off the job last week in Arlington, Texas, where full-size SUVs including the Tahoe and Suburban are produced. Vehicles assembled at the Spring Hill plant now joining the strike include the electric Cadillac Lyriq, GMC Acadia and Cadillac crossover SUVs.
"The Spring Hill walkout affects so much of GM's production that the company is likely to settle quickly or close down most production," said Erik Gordon, a University of Michigan business professor. The union wants to wrap negotiations with all three automakers so "Ford and Stellantis workers don't vote down (their) tentative agreements because they want to see what GM workers get."
The Stellantis deal mirrors one reached last week with Ford, and saves jobs at several plants, the UAW said.
Presidents of the Ford union locals voted unanimously in Detroit on Sunday to endorse that tentative contract after UAW President Shawn Fain explained its details, the union tweeted.
As he explained the particulars to the full membership in a later livestream, Fain, along with Chuck Browning, the UAW vice president, said the deal represents a "historical inflection point" for reviving union power in an America where "we were being left behind by an economy that only works for the billionaire class."
"UAW members at Ford will receive more in straight general wage increases over the next 4 1/2 years than we have over the last 22 years combined," Browning said.
Fain called the deal "a turning point in the class war that has been raging in this country for the past 40 years."
The Ford and Stellantis pacts, which would run until April 30, 2028, include 25% in general wage increases for top assembly plant workers, with 11% coming once the deal is ratified.
The Ford agreement revives cost-of-living adjustments that the UAW agreed to suspend in 2009 during the Great Recession.
Talks continued over the weekend with GM.
At Stellantis, workers get cost-of-living pay that would bring raises to a compounded 33%, with top assembly plant workers making more than $42 per hour. Top-scale workers there now make around $31 per hour.
Gordon, the University of Michigan professor, said the Stellantis deal "shows that the car companies feel they are at the mercy of the UAW, that the UAW is not going to give any mercy."
Starting wages for new Stellantis hires will rise 67% including cost-of-living adjustments to over $30 per hour. Temporary workers will get raises of more than 165%, while workers at parts centers will get an immediate 76% increase if the contract is ratified.
Like the Ford agreement, it will take just three years for new workers to get to the top of the assembly pay scale, the union said. Similarly, the union won the right to strike over plant closures.
Bruce Baumhower, president of the local union at a large Stellantis Jeep factory in Toledo, Ohio, that had been on strike since September, said he expected workers to vote to approve the deal because of pay raises including the immediate 11% raise on ratification. "It's a historic agreement as far as I'm concerned."
Stellantis is not out of the woods, however.
Overnight, 8,200 Stellantis workers in Canada represented by a different union, Unifor, walked off the job. General Motors workers in Canada have already voted to ratify a three-year contract agreement with the company.
"Negotiations between Unifor and Stellantis continue with progress being made. Stay tuned for further updates," Unifor said in a prepared statement.
The UAW began targeted strikes against all three automakers on Sept. 15 after its contracts with the companies expired. At the peak, about 46,000 UAW workers were on strike — about one-third of the union's 146,000 members at all three companies.
Shares of major automakers were flat before the opening bell Monday.
____
Bajak reported from Boston. AP writers John Raby in Charleston, West Virginia, Corey Williams in Sterling Heights, Michigan, and Haleluya Hadero in Jersey City, New Jersey, contributed to this report.
Sourse: abcnews.go.com