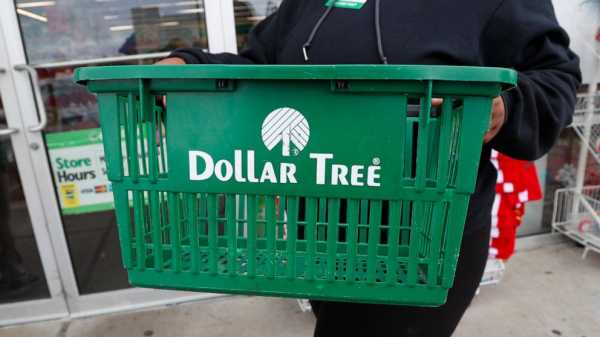 Dollar Tree's fiscal second-quarter results beat Wall Street's estimates as the discount retailer experienced strong sales and increased traffic at its stores.
Dollar Tree Inc. earned $200.4 million, or 91 cents per share, for the period ended July 29. A year earlier the Chesapeake, Virginia-based company earned $359.9 million, or $1.60 per share.
This topped the 88 cents per share that analysts polled by Zacks Investment Research expected.
Revenue totaled $7.33 billion, which was better than Wall Street's forecast of $7.22 billion.
Sales at stores open at least a year, a key gauge of a retailer's health, rose 7.8% at Dollar Tree locations. At Family Dollar, the figure climbed 5.8%.
"Both the Dollar Tree and Family Dollar segments reported strong same-store sales trends, driven by increased traffic and accelerated market share gains," Rick Dreiling, chairman and CEO, said in a statement.
Looking ahead, Dollar Tree anticipates third-quarter revenue in a range of $7.3 billion to $7.5 billion. Analysts predict revenue of $6.77 billion.
The company now foresees full-year earnings of $5.78 to $6.08 per share, with revenue between $30.6 billion and $30.9 billion. Its prior guidance was for earnings between $5.73 and $6.13 per share on revenue in a range of $30 billion to $30.5 billion.
"Our outlook takes into consideration several factors including shifting sales mix, unfavorable shrink trends, higher diesel fuel prices, incremental savings on ocean freight, and our improved sales performance," Jeff Davis, chief financial officer, said in a statement.
On Wednesday U.S. regulators announced a settlement with the company that runs Dollar Tree and Family Dollar aimed at improving worker safety at thousands of the bargain stores across the country.
Labor Department officials cited hazards at the stores including blocked exits, unsafe storage of materials, and improper access to fire extinguishers and electrical panels.
Under the agreement, the chains operated by Dollar Tree Inc. are required to find the "root causes" of violations that the Occupational Safety and Health Administration has repeatedly cited at multiple stores and fix them within two years, the department said.
Dollar Tree acquired Family Dollar in 2015 for almost $9 billion. The company operates more than 16,000 Dollar Tree and Family Dollar stores in 48 states and Canada, employing more than 193,000 people, according to the Labor Department.
Shares dropped more than 9% in morning trading.
Sourse: abcnews.go.com