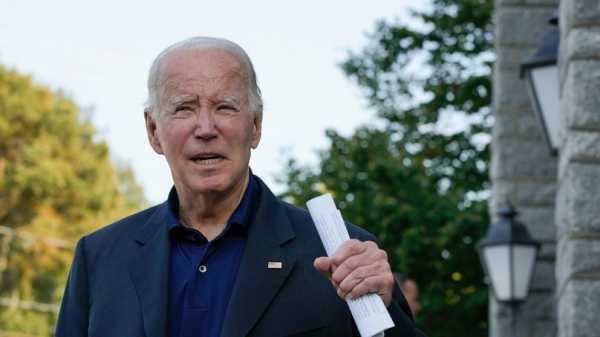 PHILADELPHIA — President Joe Biden, who often says he's the most pro-union president in history, is in Philadelphia on Monday for the annual Tri-State Labor Day Parade.
The Democratic president is speaking about the importance of unions in the United States and how the economy is recovering from the crippling coronavirus pandemic.
"This Labor Day we're celebrating jobs, good-paying jobs, jobs you can raise a family on, union jobs," the president told the crowd Monday.
Labor Day, a holiday honoring workers, comes as the U.S. has added jobs and more people have begun looking for work, the most since January, all news Biden is eager to highlight as he seeks reelection in 2024.
"As we head into Labor Day, we ought to take a step back and take note of the fact that America is now in one of the strongest job-creating periods in our history," Biden said Friday from the Rose Garden, where he spoke after the news that America's employers added 187,000 jobs in August, evidence of a slowing but still-resilient labor market despite the high interest rates the Federal Reserve has imposed.
Friday's report from the Labor Department also showed that the unemployment rate rose from 3.5% to 3.8%, the highest level since February 2022 though still low by historical standards. But the rate rose for an encouraging reason: 736,000 people began looking for work last month, the most since January, and not all of them found jobs right away. Only people who are actively looking for a job are counted as unemployed.
"People are coming off the sidelines, getting back to their workplaces," Biden said.
At the Tri-State Labor Day event in Philadelphia, hundreds of union workers donning their local tee shirts — from the Sheet Metal Workers, United Food and Commercial Workers, Stagehands and others— waited on a warm and muggy morning to see the president speak.
Lenny Nutter, a Philadelphia resident wearing a yellow Laborers International Union shirt, said he came to the event to support the President, adding that unions have been more active than they used to be, due in part to the President's policies.
"Unions are adding members and a lot more work has been given to union workers," Nutter said.
Biden has used executive actions to promote worker organizing, has personally cheered unionization efforts at corporate giants like Amazon and has authorized federal funding to aid union members' pensions. Just last week, the Biden administration proposed a new rule would make 3.6 million more U.S. workers eligible for overtime pay, the most generous such increase in decades.
Biden also has traveled the country, trumpeting how union labor is building bridges and improving train tunnels as part of the bipartisan $1.1 trillion public works package Congress passed in 2021.
"Unions raise standards across the workforce and industries, pushing up wages and strengthening benefits for everyone," Biden said Friday. "You've heard me say many times: Wall Street didn't build America. The middle class built America, and unions built the middle class."
The 36th annual Tri-State Labor Day Parade and Family Celebration is hosted by the Philadelphia AFL-CIO, whose website says it comprises more than 100 local labor unions representing more than 150,000 workers.
Sourse: abcnews.go.com