Arsenal, Liverpool and Wolves all complained about the refereeing and VAR this weekend; VAR had another weekend under the spotlight; watch former referee Dermot Gallagher analyse the weekend's officiating talking points on Monday at 11.30am on Sky Sports News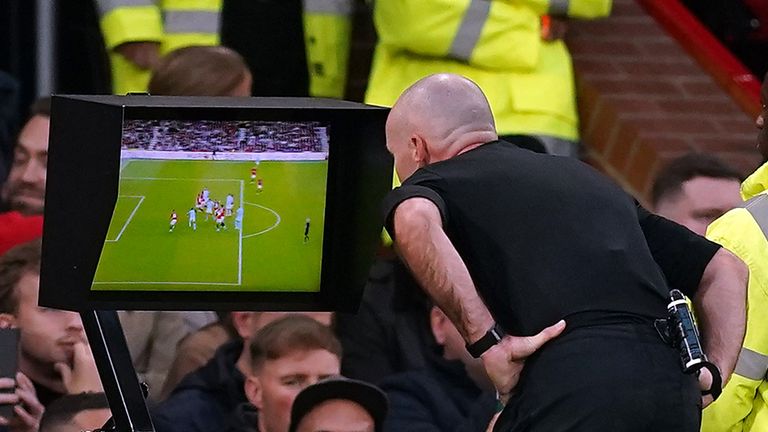 Another week, another set of VAR controversy as Liverpool, Arsenal and Wolves all complained about the video technology not getting calls right.
Liverpool felt they should have had a penalty to help put them 1-0 up at Luton when Virgil van Dijk was brought down by Luton's Elijah Adebayo in the box.
VAR took a look at the incident but chose not to award a penalty, leaving Jurgen Klopp so bemused he earned a yellow card for his protestations.
'Disgraceful' – Arsenal demand refereeing standards be urgently addressed
Unanswered questions | Anthony Gordon's 'embarrassing' goal dissected
Mikel Arteta: Newcastle goal a disgrace and embarrassing
Get Sky Sports | Get NOW to stream big moments
Meanwhile, Newcastle's winner at Arsenal was also deemed controversial. Anthony Gordon's second-half strike was enough to beat Mikel Arteta's side despite a four-minute VAR check to analyse three talking points with the goal – whether the ball went out of play, a potential foul by Joelinton and an offside on Gordon.
Wolves manager Gary O'Neil said Fabio Silva's late foul on George Baldock to award Sheffield United their match-winning penalty on Sunday was not a spot kick, as the club face another questionable call from the video technology.
Sky Sports looks at each talking point in question…
Klopp: Luton defended like wrestlers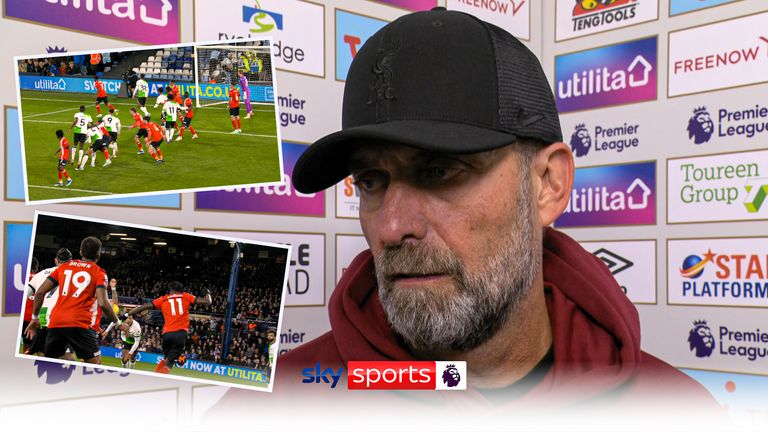 Jurgen Klopp says Ross Barkley didn't handle the ball before Luton's goal, but he felt Virgil van Dijk was fouled in the build-up
Liverpool manager Jurgen Klopp believes his side should have been awarded a penalty before Luton took the lead.
Seven minutes before Tahith Chong's opener, VAR looked at a possible penalty after Van Dijk was brought down by Elijah Adebayo, but the technology waved the claims away.
Klopp was booked for his protestations over the incident and the Liverpool manager compared the Adebayo foul to wrestling.
"I respect a lot what they do, but the way they defend set pieces defensively, if you watch it back it's wrestling," he said in his post-match press conference. "It's not on the edge, it's the wrong side of it.
"If they don't get punished [in the rules], why should they change it? There's a bit of discussion we had before, not when they scored him, just before, when Virgil's man brought him down. It's a good point scored in wrestling."
Asked about his yellow card, Klopp told Sky Sports: "It's Anthony Taylor who gave me the yellow card, not the ref. I spoke to the linesman and Anthony didn't like that. I was really surprised I got a yellow card. I deserve a lot of cards I get in my life but this one I didn't understand. You have to ask Anthony.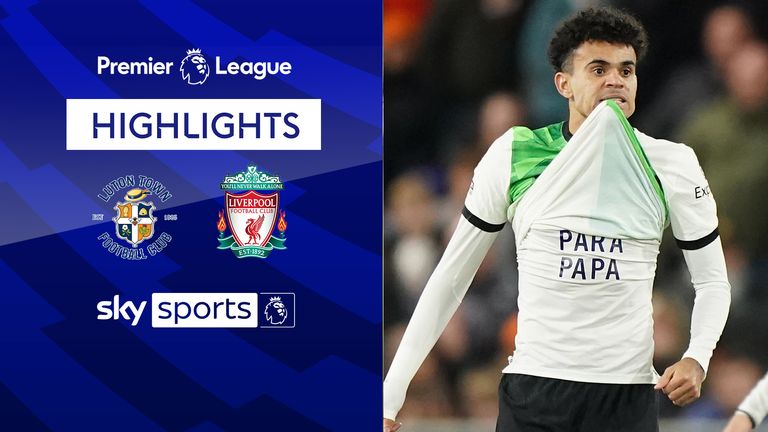 FREE TO WATCH: Highlights from the 1-1 draw between Luton and Liverpool in the Premier League
"It was not a handball before the goal, I saw that back. But the situation before, the wrestling in the box. If that's allowed then it's allowed, we cannot change that. The refs have their own view nowadays, so that's it."
Responding to those claims, Luton manager Rob Edwards said: "He [Klopp] had a bit of a word. We have to try and be physical and make sure they don't get a free header. They have big old boys who are coming up for set pieces and we have to get our heads on it. We have to stand up and defend well.
"There's always going to be little bits that he will have a chew about but I'm proud with how we defended those moments.
"It's still a physical game. I'm not saying it's a foul, far from it. But we don't want to say: 'Have a free header Virgil, get on it'. He's a winner, he won't be happy with certain bits. We have to find a way to get a result, it's hard against a team like that."
Arteta: Newcastle goal a disgrace as Arsenal call for action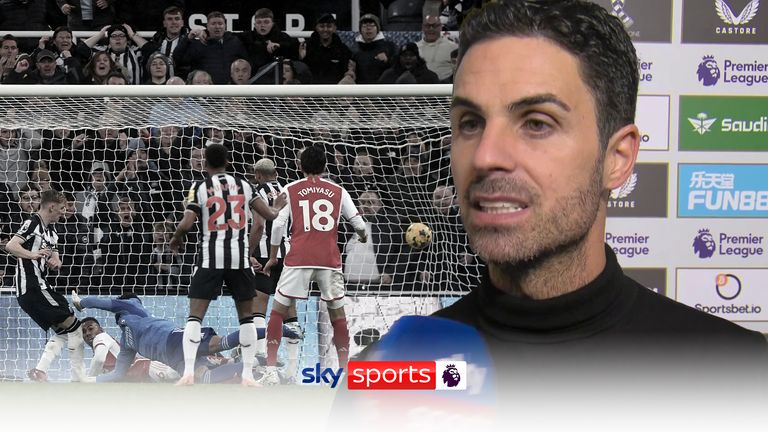 Arsenal manager Mikel Arteta slams the decision to allow Anthony Gordon's goal to stand in Newcastle's 1-0 win over the Gunners in the Premier League
After the controversial call which saw Newcastle beat his Arsenal team, Gunners boss Mikel Arteta told Sky Sports the awarding of the goal was a "disgrace" and "embarrassing" for the officials.
Arsenal argued the ball had gone out of play in the build-up to the goal and Gabriel was then pushed in the back by Joelinton, who headed the ball down.
Claims for an apparent offside were also not upheld after VAR deemed they could not determine the moment of contact when the ball fell to Gordon.
"It's a disgrace," Arteta told Sky Sports. "It's embarrassing. That's how I feel and that's how everybody feels in that [dressing] room. You cannot imagine the amount of messages we've got saying this cannot continue. It's embarrassing. I'm sorry, embarrassing.
"I feel sick. That's how I feel. I feel sick to be part of this. It is not good enough and we cannot accept that."
On Sunday, Arsenal came out as a club to support the manager. "The Premier League is the best league in the world with the best players, coaches and supporters, all of whom deserve better. PGMOL urgently needs to address the standard of officiating and focus on action which moves us all on from retrospective analysis, attempted explanations and apologies," the statement read.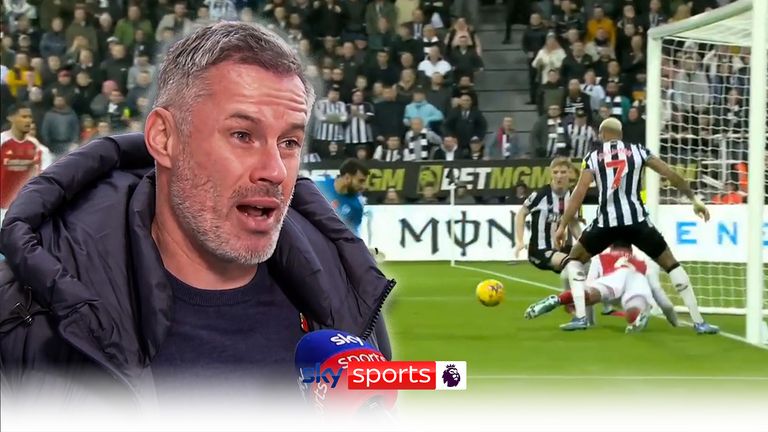 Jamie Carragher doesn't agree with Arsenal's statement on Anthony Gordon's controversial goal, insisting there was no conclusive evidence to disallow it
But Sky Sports pundit Jamie Carragher had a different view. "Put yourself in Howard Webb or VAR's position – they can't conclusively say whether the ball was in or out. So the on-field decision was carry on and they have to go with that," he said.
"Is there a foul? Probably 50:50, but not a terrible decision. It could go either way and as a centre-back I'm saying to Gabriel, he could be stronger. And the last bit about offside, it wasn't given on the field, it was difficult. But VAR didn't have an angle to see it. So what do you want VAR and the officials to do?"
O'Neil: No way should Sheff Utd have had penalty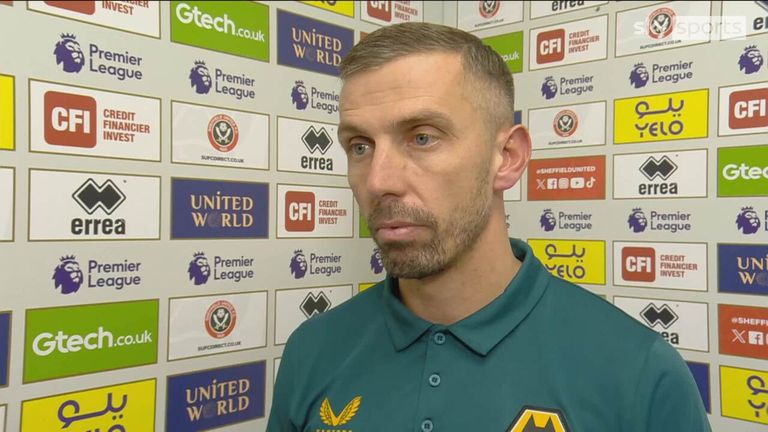 Wolves boss Gary O'Neil was frustrated with the officials' decision to award Sheffield United a late penalty, describing it as a 'terrible refereeing decision'
Meanwhile, Wolves manager Gary O'Neil has openly criticised VAR and the officials for multiple talking points – which have seen several top-flight referees demoted to the EFL.
The latest contentious call came on Saturday as Wolves conceded a penalty late on at Sheffield United, when Fabio Silva was adjudged to have fouled George Baldock.
"It's not a penalty," O'Neil told Sky Sports after the game. "I've spoken to the referee about it and I told him why it wasn't a penalty.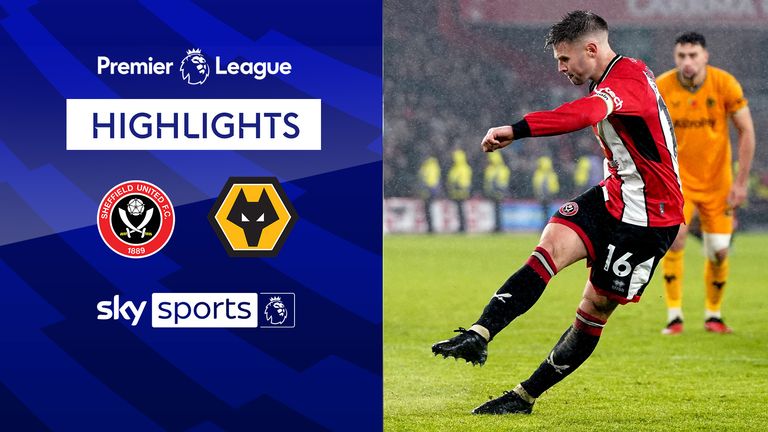 FREE TO WATCH: Highlights of Sheffield United against Wolves in the Premier League
"He says there is contact. I think Fabio's shinpad probably grazes Baldock's calf. There's no way it's a penalty, but there's nothing else to discuss."
Former Premier League referee Mike Dean said on Soccer Saturday: "From a referee's point of view, when you slow it down, Silva's boot lands on the top of Baldock's toes. It's a soft penalty, but there's contact.
"The referee has given the penalty so it's not a wrong decision and VAR would not have overturned it.
"The more time I've had to look at it properly, his foot has landed on Baldock's foot. Last week [when a penalty was given against Hee-Chan Hwang], there was no contact. That's more of a penalty than last week in my opinion."
Should Everton have had a penalty?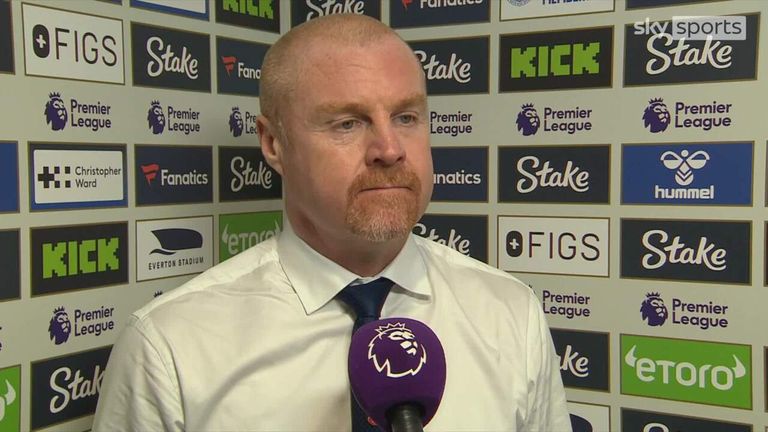 Everton boss Sean Dyche praised his players for their work rate and mentality in the 1-1 draw with Brighton
When Sean Dyche reflects on Everton's 1-1 draw with Brighton, he will see it more as two points dropped as he felt his side should have had a second-half penalty while still leading when Dominic Calvert-Lewin was wrestled to the ground by Jan Paul van Hecke.
"I know, because I was a centre-half, he [Van Hecke] is the wrong side of him. I think you do things like that because you have that moment when you think 'He is in'," Dyche said.
"That is a really important call and it went against us but I don't know how it went against us because I thought it was obvious.
"I'm bound to say that, but when people see it I'll be surprised if they didn't think there was certainly a big suggestion of that being wrong.
"I'm not saying it is an absolute but it is a long way to being a decision which should have been given in my opinion."
Sourse: skysports.com