Health officials in Virginia have announced the state is experiencing an outbreak of rare, but serious meningococcal disease.
Twenty-seven cases have been identified since June 2022, which is three times higher than the expected number of cases during this period, according to the Virginia Department of Health. Of those cases, five people have died from complications due to the disease.
Most of the patients are Black or African American adults between ages 30 and 60, but no other information on the patients was available, the health department said. Twenty-six of the 27 patients were not vaccinated against meningococcal disease.
MORE: Mom battles fungal meningitis after cosmetic surgery at Mexico clinic linked to deadly outbreak
No common risk factor has been identified, but the bacteria share common genetic sequencing, according to the VDH.
Infections have been reported in eastern, central and southwest Virginia, with most being in the eastern part of the state. That leaves the department to initially believe it was a regional outbreak when it was first announced in September 2022.
Despite the outbreak, officials say the risk to the general public in Virginia is low.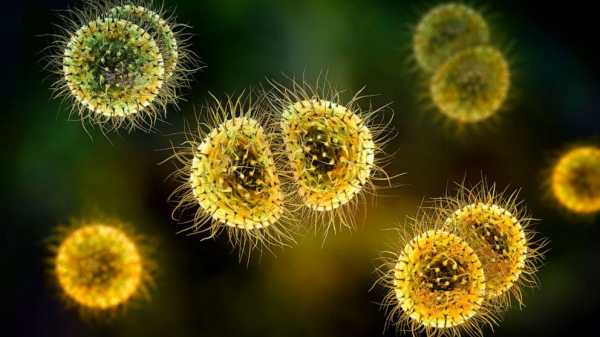 Meningitis bacteria (Neisseria meningitidis), computer illustration is pictured.STOCK PHOTO/Getty Images
Meningococcal disease is a rare illness caused by the bacteria Neisseria meningitidis, according to the Centers for Disease Control and Prevention. There are six types of the bacteria that cause most diseases around the world, with type Y being responsible for the Virginia outbreak.
The bacteria are spread by coming into contact with an infected person's saliva or spit, such as through coughing, kissing, sharing items or sneezing near someone's face. Sometimes the bacteria also spread through prolonged general contact with an infected person.
The illness can often turn severe and lead to meningitis, which is an inflammation of the lining of the brain and spinal cord, or septicemia, a bloodstream infection.
Symptoms included headache, fever, stiff neck, nausea, vomiting, sensitivity to light and — if the disease gets into the bloodstream — a dark purple rash.
Meningococcal disease can be difficult to diagnose because many symptoms resemble other illnesses, the CDC said. To diagnose the disease, samples of blood or fluid near the spinal cord are collected and sent to a laboratory to detect bacteria.
Antibiotics can treat meningococcal disease, but treatment needs to be started as soon as possible to reduce the risk of complications, according to the CDC.
MORE: Patients with HIV in US saw rise of rare, deadly bacterial illness last year: CDC
Between 10 and 15 in 100 people with meningococcal disease die and one in five have long-term disabilities, including deafness, loss of limb or libs, brain damage and nervous system problems, the CDC said.
The Virginia Department of Health is recommending that during the outbreak, and in general, residents not share personal items, practice good hand hygiene, avoiding contact with those who are sick and to seek care immediately if they are experiencing symptoms of meningococcal disease.
The department also advised that teenagers receive the meningococcal conjugate vaccine (MenACWY) as scheduled at 11 or 12 years old and a booster dose at 15 or 16 years old. The MenACWY vaccine protects against the three types of bacteria that most commonly cause meningococcal disease in the U.S.
The Virginia Department of Health did not immediately reply to ABC News' request for comment.
Sourse: abcnews.go.com