The overdose reversal drug Narcan will be available for over-the-counter purchase starting in September, its manufacturer announced Wednesday.
Biotech company Emergent BioSolutions Inc. said the nasal spray has been shipped to pharmacies, drugstores and grocery stores as well as online retailers with a suggested price of $44.99 for a two-dose box.
It comes five months after the U.S. Food and Drug Administration approved Narcan to be distributed without a prescription – a milestone advocates have said will make it easier to save lives amid the ongoing opioid epidemic that claimed more than 100,000 American lives in 2021.
MORE: Nonprofit hits Coachella with lifesaving fentanyl test strips, Narcan
The majority of these deaths were due to opioids, particularly synthetic opioids such as fentanyl, which is about 100 times stronger than morphine.
According to Emergent BioSolutions, approximately one life was lost to an opioid overdose every seven minutes in the U.S. last year.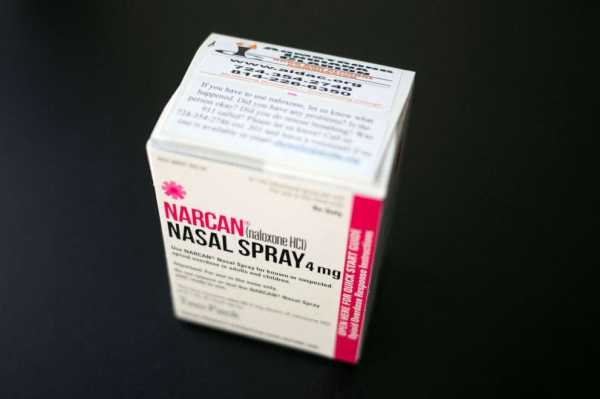 A box of NARCAN nasal spray is photographed at an outpatient treatment center in Indiana, Pa., Aug. 9, 2017.Adrees Latif/Reuters, FILE
Narcan comes in 4-milligram doses and is sprayed directly into the nostrils of someone experiencing an opioid overdose. The main ingredient in the medication — naloxone — blocks the effects of opioids and can quickly restore breathing.
Anyone at risk or who knows someone at risk for an opioid overdose should carry naloxone or keep it in their home, the Centers for Disease Control and Prevention recommends. It is safe for bystanders to administer the drug to anyone who appears to be experiencing an overdose and will not hurt them if they are not actually overdosing, the CDC said.
While nearly 17 million doses were distributed in the U.S. in 2021 — mostly through local health departments, first responders, schools and other organizations — harm reduction groups have been pushing for easier access to naloxone, particularly in underserved communities.
"A steadfast commitment to expanding access to naloxone has always been at the forefront of our work to help save lives and we're proud to bring NARCAN Nasal Spray to many, many more places," Paul Williams, senior vice president of products business at Emergent BioSolutions said in a statement.
MORE: Fentanyl overdose deaths surged 279% since 2016 while heroin deaths fell: CDC
Walgreens told ABC News Narcan will be available in stores and online as soon as Sept. 5, with nationwide availability on Sept. 7, and that it will be sold at the suggested retail price. Walmart said it will be available the first week of September and Kroger Health told ABC News it will be carrying Narcan but did not give a date for when it will be available.
ΑBC News has also reached out to CVS Health and Rite Aid to see if or when Narcan will be made available at their stores.
Sourse: abcnews.go.com