The Centers for Disease Control and Prevention recommended on Friday the first maternal RSV vaccine for pregnant people given in the third trimester to protect newborn babies.
The director of the agency signed off not long after the CDC's advisory committee voted 11-1 on Friday to recommend the vaccine, manufactured by Pfizer as Abrysvo, for pregnant people between 32 and 36 weeks gestation, which would pass on protection to infants that lasts for the first six months of life.
"This is another new tool we can use this fall and winter to help protect lives," CDC Director Dr. Mandy Cohen said in a statement. "I encourage parents to talk to their doctors about how to protect their little ones against serious RSV illness, using either a vaccine given during pregnancy, or an RSV immunization given to your baby after birth."
MORE: CDC issues warning RSV is on the rise in young children in Southeastern US
The CDC said the vaccine is already available in some locations in the U.S. and will increase in the coming weeks.
"Every family wants to make sure that their children are getting a good start in life and to hear that we are finally going to have some additional protection against a major respiratory illness that has caused problems for families for years, is a huge advance in medicine is a huge advance in public health," Dr. Michelle Taylor, health commissioner of the Shelby County Health Department in Memphis, Tennessee, told ABC News.
RSV hospitalizes between 58,000 and 80,000 children under 5 years old each year in the United States, according to the CDC. In 2016, over 650,000 children less than five died from lower respiratory tract infections from RSV worldwide, according to research published in The Lancet Infectious Diseases.
Babies are most vulnerable to this virus when they are under 6 months old and those born prematurely. Young children who have certain underlying health conditions such as heart, lung, or neuromuscular diseases are also at risk of severe complications of this virus, the CDC said.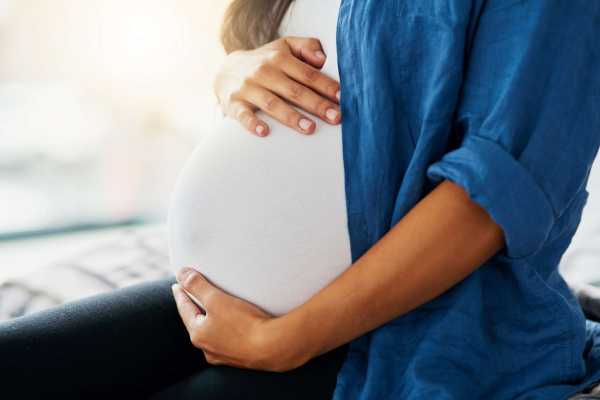 A woman holds her pregnant belly in this undated stock photo.STOCK PHOTO/Getty Images
Dr. Michael Caldwell, associate vice president of vaccine research and education at Meharry Medical College in Nashville, said this shot could be particularly impactful for the populations with disproportionate rates of prematurity such as Black and American Indians and Alaskan Natives who have rates of prematurity that are about 50% and 30% higher than white infants, according to the March of Dimes.
"Prematurity is a major risk for severe RSV disease… if you could reduce the severity of RSV in those babies, you're going to have a greater impact on those racial and ethnic groups that have higher rates of prematurity," he said. "You would hope that this is going to be a major advance to close the gap."
This shot joins another newly approved tool called nirsevimab — a monoclonal antibody shot that is recommended for all infants under 8 months old– available this season.
During the meeting Friday, the committee laid out clinical considerations for how these products should be used together but said that most babies who are born to mothers who receive the RSV shot in pregnancy will not need the additional protection with nirsevimab unless they are born less than 14 days after the mother received their RSV shot.
The Food and Drug Administration approved Pfizer's Abrysvo for pregnant people in August and warned this shot should not be given before 32 weeks gestation citing insufficient evidence of a link to increased premature births in the clinical trials. Pfizer is required by the FDA to conduct post-marketing studies to continue to monitor the safety of the shot.
MORE: COVID, RSV and influenza likely to impact health care system this year: CDC
Dr. Julie Morita, executive vice president of the Robert Wood Johnson Foundation, told ABC News she believes this warning shouldn't deter eligible pregnant people from the shot. When these shots become available for pregnant people, Morita said that ensuring equity is of utmost importance.
"While this is exciting news, I also am concerned about how this is implemented to make sure that everyone has access all pregnant people have access to these vaccines so they can fully take advantage of it," Morita said.
Caldwell called this shot "historic," and pointed out that this is the first shot ever studied in pregnant women in clinical trials before licensing.
"This is the first time that there were studies done specifically with the intention of applying to the FDA for licensing with the indication for pregnant moms."
Dr. Laura Riley, chair of the American College of Obstetricians and Gynecologists' (ACOG) Immunization, Infectious Disease, and Public Health Preparedness Expert Work Group, told ABC News, "as an obstetrician, I am very excited that there's finally a maternal vaccine. I think that we've had the experience with other vaccines that suggest maternally derived antibodies cross the placenta fairly rapidly and can protect the baby from vaccine preventable diseases."
The ACOG also released a statement in support of the vaccine with interim CEO Dr. Christopher Zahn saying, "The national and global burden of RSV disease demonstrates how critical it is to prevent this virus in infants. ACOG believes the maternal RSV vaccine is efficacious and it is necessary that parents have this option to protect their newborns from RSV after birth. ACOG is currently making updates to its clinical guidance that will be released in the coming days."
This maternal RSV vaccine joins three other shots that are also recommended in pregnancy including COVID-19, flu, tetanus, diphtheria, and pertussis, or Tdap, vaccines.
MORE: While COVID and RSV rates were decreasing this spring, a lesser-known virus was on the rise
Riley said that her patients are also excited about this development and started asking her if they could get the shot soon after it was FDA-approved in August.
"Yesterday I was in the office. I saw 20 people, four asked for the vaccine… they didn't even ask for information. They wanted the vaccine," Riley said.
"It couldn't be more important to vaccinate as many people as possible… public health heavily relies on making sure that we can protect the most people from diseases that once vaccinated are preventable. And so to be able to prevent RSV among our youngest population, even before they're born is just amazing," Taylor added.
Sourse: abcnews.go.com