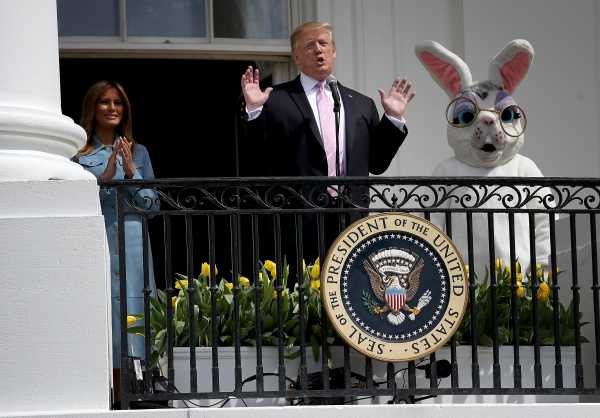 If you got your initial information about special counsel Robert Mueller's report from Fox News — a network where the report has been framed as a complete exoneration of the president — you were much more likely than not to hold the false belief that Trump was totally cleared, according to new polling.
Mueller's final report on Russian interference in the 2016 election does not, of course, actually exonerate the president. Even Attorney General William Barr acknowledged as much in the letter he wrote to Congress summarizing Mueller's key takeaway weeks before the report's public release.
But a new HuffPost/YouGov poll finds that 83 percent of respondents who got their information about the report from Fox News think it clears Trump.
The HuffPost/YouGov poll — conducted last Thursday and Friday, the first two days following the Mueller report's release on Thursday morning — provides a stark illustration of the effective job Fox News does protecting a president with whom the network has a symbiotic relationship.
Not only are Fox News viewers likely to agree with Trump's misleading talking points about the Mueller report, but when compared to CNN or MSNBC viewers, they're much more likely to report that they think they know what they're talking about. According to the poll, 57 percent of respondents who got their information about the report from Fox News said they understood Mueller's findings "very well," compared to 26 percent of CNN viewers and 28 percent of MSNBC viewers.
The irony is that out of the three networks, Fox News has been most heavily spinning the report. Media Matters summarized the network's coverage over the course of the first 24 hours following its release:
These talking points are resonating with Fox News viewers. The HuffPost/YouGov poll found that 80 percent of people who report getting their information about the Mueller report from Fox News think the Trump campaign's relationship with Russia is "not a problem at all." In fact, 76 percent of respondents who got Mueller report information from Fox News say the report "does not reveal anything damaging" about Trump — a figure drastically different than the 50 percent of CNN viewers and 83 percent of MSNBC viewers who say the report demonstrates that Trump "is unfit to be president."
The polling suggests Fox News viewers are even more likely to view the Mueller report as a total exoneration of the president than Trump supporters who don't watch Fox News. It indicates 76 percent of Trump voters said they think the Mueller report clears Trump, compared to 83 percent among people who got their information about it from Fox News but aren't necessarily Trump supporters.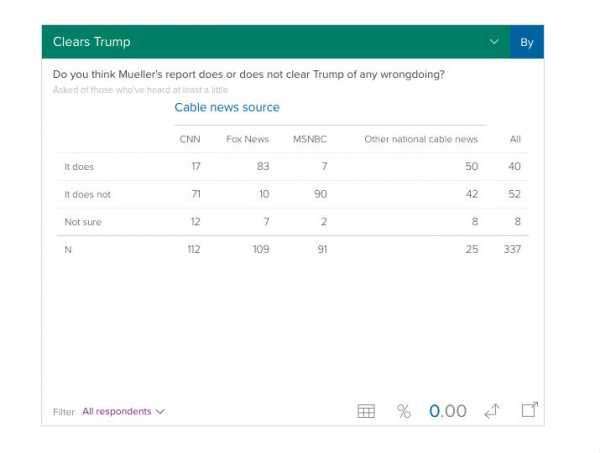 The percentage of people who got their initial information about the Mueller report from Fox News was not insignificant. Among all respondents, 86 percent reported hearing at least a little bit about the report's release. Of those 86 percent, 38 percent got their information from cable news, and of those, 35 percent were watching Fox. But more people reported getting their information about the Mueller report from Fox News than CNN (32 percent) or MSNBC (25 percent). And while more people got news about the Mueller report from online sources (44 percent) than cable news, a much higher percentage of people got their information about the Mueller report from cable news than people who actually read it for themselves (14 percent).
Fox News is amazingly effective at disseminating and getting people to buy in to Trumpian talking points. And in return, the president promotes Fox News's programming, as he did on Tuesday morning.
Put it all together, and it's not surprising that Trump was alarmed by Fox News hosting a Bernie Sanders town hall event last week.
Polling indicates the Mueller report wasn't a game-changer — at least initially
Beyond its findings about cable news, the HuffPost/YouGov poll finds that the Mueller report did "little to jostle deeply polarized public opinion," as HuffPost noted. Only 1 percent of Trump voters said that the report led them to conclude Trump is unfit to serve — a number that's almost the inverse of Hillary Clinton voters, among whom only 2 percent said that the report isn't damaging for Trump at all.
A separate Politico/Morning Consult poll conducted last Friday through Sunday found Trump's approval rating at just 39 percent, equalling his all-time low.
It is, of course, still early. These are the polls conducted just after the lengthy report was released, and more coverage of its findings could further shape public opinion.
The Politico/Morning Consult tracking poll shows Trump's approval rating oscillating between 39 percent and 44 percent. Perhaps more important for Trump, only 34 percent of respondents said they believe Congress should begin impeachment hearings — a percentage that, if anything, has gone down since last month, before Mueller's report was released.
The news moves fast. To stay updated, follow Aaron Rupar on Twitter, and read more of Vox's policy and politics coverage.
Sourse: vox.com